Oriental Love Ring Circles Back

By
.(JavaScript must be enabled to view this email address)
Friday - September 08, 2010
|

Del.icio.us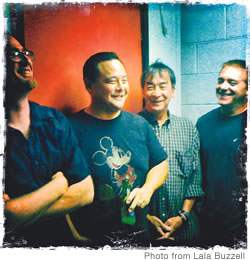 Oriental Love Ring: (from left) Larry Lieberman, Chad Ikezawa, Beano Shots and Peter Bond
Oriental Love Ring celebrates its time back together following a 20-year break with the release a new CD In This World.
During their extended time off, the group's drummer Bryan Brundell moved to California. Veteran drummer Larry Lieberman joined the original cast Peter Bond (vocals, rhythm guitar), Beano Shots (lead guitar) and Chad Ikezawa (bass guitar).
Other than that, everything is status quo.
"The band's spirit and sound haven't changed," says Shots. "In fact, that's how we got back together.
We just started jamming in 2008 and realized that the magic was still there."
OLR's alt-rock resume dates back to 1988 when it earned a regular spot in the local rock scene performing at Wave Waikiki, the epic location where the band got its name.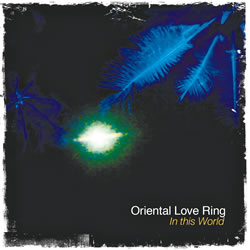 "In the men's bathroom at the Wave there was a condom machine, and selection No. 3 was Oriental Love Ring," says Shots. "We thought it was funny, so that became our name."
OLR's success locally expanded throughout the U.S, and in 1990 the group became one of the first bands from Hawaii to be invited to the prestigious South by Southwest music festival in Texas.
"We built a following, but we never gave ourselves the chance to record a proper CD, so after getting back together we wrote new songs and started recording in December 2009."
Recorded at Avex Honolulu Studios and engineered by Milan Bertosa, In This World features 10 original songs written by the band.
"A lot of the album is about relationships that didn't work out," adds Shots. "Also, a lot of the lyrics are about searching inward, which is the symbolism of the album cover."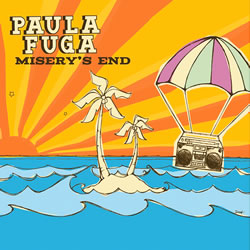 OLR will perform songs from the new album Oct. 10 at Dave & Buster's as part of Star 101.9's Battle of the Bands. The show starts at 6 p.m.
The album is available online at orientallovering.com.
"I think releasing this CD has just been tremendous, and what we didn't realize is how anticipated it was by our fans," adds Shots. "This has really brought us closer together."
For more on the band's reformation, check out a short documentary by film-maker Stuart Yamane on its website ...
Just in case you haven't heard, Paula Fuga released a new album, Misery's End, featuring collaborations with Jack Johnson and Ziggy Marley.
To no surprise, it debuted at the No. 3 spot on the iTunes Reggae chart when it was released last month, and has since received amazing reviews.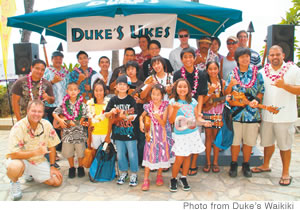 Last year's Duke's Ukes contest winners
It features her fresh mix of reggae, rhythm and blues, soul and acoustic songwriting. The album, which features five new songs, is a result of Fuga's friendship and musical collaboration with Johnson and his invitation for her to join him on his 2010 To The Sea tour. Johnson also is credited as a producer on the project.
Digital downloads of Misery's End are available on iTunes, Amazon, Napster, Zune and most major digital retailers ...
Amateur ukulele player ages 6 and up are invited to audition for this year's Duke's Ukes Contest held annually at Duke's Waikiki.
The second and final round of auditions this Saturday begin at 10 a.m. on the first floor of the Outrigger Waikiki on the Beach Hotel.
Participation is free and contestants can register on the day of the audition. To view the official flier or for an application, visit dukeswaikiki.com.
Those who make it to the final round will compete Oct. 2 from 10 a.m. to noon in one of four age categories: 6-10, 11-15, 16-18 and 19 and older.
The winners in each category will receive a brand-new Kamaka ukulele. A "Best Showmanship" award will be presented, as well as additional prizes from Ukulele Puapua, Mountain Apple Company and Trophy House.
Most Recent Comment(s):