Finally, A Home For Ann Dunham's Art
Wednesday - October 05, 2011
By Chad Pata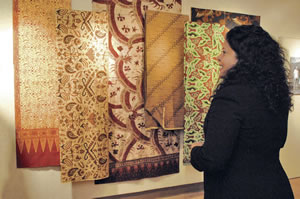 Maya Soetoro-Ng with her mother's batik collection. Nathalie Walker photos

.(JavaScript must be enabled to view this email address)
The life of Ann Dunham, mother of President Barack Obama, was one full of adventure, exploration and whimsy. But what her life's work never truly had was a home.
The East-West Center has rectified that with an exhibition in its John A. Burns Hall named Through Her Eyes, which explores the anthropological research Dunham performed in Indonesia that began with her work there as a graduate fellow for EWC in the 1970s.
The gallery is filled with the artifacts she collected during her 20-plus years in Indonesia: woodworking, blacksmithing, leatherworking and even puppetry. Intermixed with the pieces are pictures taken by Dunham of the common people of the country, and how they scratched out a living as their parents and grandparents had before them.
The exhibit is scheduled to be open until Jan. 8, after which it could be headed for a more permanent home at the Smithsonian. It stands as a display of how the little people survive in this country of 238 million. But for two individuals, the president and his little sister Maya Soetoro-Ng, it represents a snapshot of their very unconventional childhoods.
"It's intense to see it all here. She died young so she never really had a chance to have a home," says SoetoroNg, who was in town for the opening reception last weekend. "She envisioned a retirement that involved having people over, good food, good storytelling, being able to conjure from all her adventures. While much of it is lost, to see it all here together is a great gift to me. It is such an emotional experience for me."
Watching Soetoro-Ng take the gallery in for the first time was akin to seeing a child at her first amusement park, her head pivoting quickly back and forth, her long, flowing black hair getting airborne as she tried to take in all the images at once of a long since gone childhood now reflected in the iridescent lights of a museum gallery. A smile kept flashing as she saw the faces of her youth and the trappings of formative years.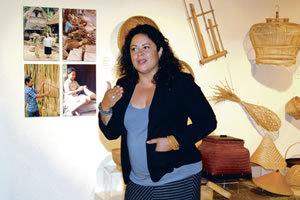 With belongings from her mother and photos.
She comments to the dozen or so people gathered with her for the showing about her mom's love of weaving, how that was what first drew her to the handicrafts of a foreign land, and the unique smell of the wax used to imprint the native Indonesian wraps known as batiks.
"She was interested in all variety of crafts, not just batiks," says Soetoro-Ng, whose father was Indonesian. "But more than just the crafts, she was interested in the people who made the handicrafts, both in terms of what they represented to the economy, the cottage industries, which she saw as the backbone of the economy. These are what she looked to when she was developing her microfinance programs."
Microfinance was Dunham's life's work, providing small loans to underprivileged workers, providing money that would help them keep their businesses afloat and their children living indoors. She felt these artisans were the backbone of any economy, and that the vitality of the Indonesian economy was tied to these people's survival.
Unfortunately, her life was cut short before she had a chance to spread her ideas throughout the archipelago, but the message is seen in this exhibit, which curator Michael Schuster believes is the true beauty of her life's work.
"It resonates so much with me," says Schuster, who spent two years gathering artifacts for the exhibit. "I love that nothing here is really valuable. She valued what people did for a living. The tools, when you see it all together with her photographs, she just showed such a love of process, that respect for human effort. It's apparent in the totality of her work."
It is true, there is nothing that one will find in this exhibit that one could not go and purchase on the streets of Jakarta today. In fact, so much of her collection was lost because of her itinerancy and the balmy weather of Indonesia that Schuster had to travel to there himself to replace many pieces. But the value of things cannot always be judged by dollars, but rather by what it represents in effort and as a tool to help one survive.
"She also saw it as a feminine cause. Aside from blacksmithing, most of the handicrafts were made by women," says Soetoro-Ng. "It gave them a sense of empowerment in their own lives and in the lives of their children. She championed cottage industries, even while challenging the thinking of other anthropologists."
Schuster has filmed many of the artisans Dunham captured over the years, and a video runs on one wall showing the actual mechanics of how the crafts were made. It's startling to watch four bare-chested men pounding away on a red-hot metal rod, fiery fragments flying off as they work unflinchingly. It was this dedication to craft that made Dunham cherish each simple artifact.
"She would say she was going to fondle her purchases. She would lay her batiks out on the floor just to look at them and appreciate their beauty and run her fingers along them," says SoetoroNg.
The crafted goods also served as mini-excavations for the ever-curious Dunham, who wondered how Chinese metals had made their way down and what all they had seen. Her childlike delight even ventured to puppets that she collected. According to Soetoro-Ng, life itself delighted her and her sense of whimsy knew no bounds.
While the gallery is an homage to Dunham's life, there is really only one picture of Barack Obama in the gallery, a childhood family shot with his toddler sister in the foreground, and like any younger sister, she had to throw a jab at big brother while he was out of earshot. "Here is the family, with our president looking decidedly more chunky than he does now!" Soetoro-Ng says with a laugh.
"Seeing that picture of her laughing with others in the field reminds me of her sense of community," reminisces Soetoro-Ng. "Seeing the picture of her with these chicks and stray dog reminds of how kind she was ... This exhibit is not that of a perfect woman, but it conveys her curiosity, her emotional broadness and her delight in the details of human existence, and I think that is something we should emulate."
Most Recent Comment(s):