Spotlighting Hawaii-made Films

Wednesday - October 12, 2011
By
.(JavaScript must be enabled to view this email address)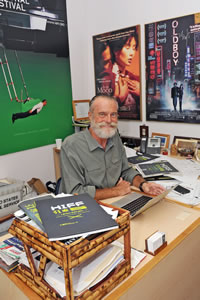 HIFF executive director Chuck Boller. Lawrence Tabudlo photo

.(JavaScript must be enabled to view this email address)
Last year, a panel at the annual Hawaii International Film Festival (HIFF) posed a daunting, loaded question "Is the sky falling for Hawaii filmmaking?"
Panelists and audience members engaged in a Q&A about the successes and failures of the local industry, the challenges of reaching an audience and the impact of the ever-changing technology including digital film and mobile and online film distribution.
But just looking at this year's HIFF schedule which features about 225 films, including eight locally made films, along with a number of other local short films it's clear that the sky for Hawaii filmmaking is very much not falling, and is only getting brighter.
Now in its 31st year, HIFF continues a rich tradition of discovering and showcasing films from Asia and the Pacific. The festival is also noted for featuring films about Hawaii made by people from Hawaii. This year's festival kicks off Thursday and runs through Oct. 23, with a one-time showing of The Descendants as the closing film.
HIFF began in 1981 as an outreach campaign by the East-West Center, a nonprofit that strives to increase cultural understanding among the U.S., Asia and the Pacific.
"We have always kept that as our mission statement and as a priority for HIFF," explains executive director Chuck Boller. "And there is no better window into other cultures than through film ... I used to joke around a couple of years ago when the economy was really bad here, and everywhere, about 'stay-cations.' You could sit (in a theater) ... and for two hours you're someplace else. You really are."
Over the years, the festival has expanded. From just a few films the first year, the festival now screens hundreds of films and reels for an audience that totals 80,000 from around the world.
The breadth of local films, many of which are showcased in the Made in Hawaii section, also has expanded. In the past, the section was mainly comprised of television commercials, explains Boller. This year, HIFF received more than 100 submissions from local filmmakers.
"There are excellent films being made in Hawaii right now," Boller says, noting that HIFF has received more local feature film submissions in the past couple of years than ever before.
"I think it's so bright and so exciting," Boller says of the local film industry, "because there have always been talented, capable people here. And it's been frustrating to see Hollywood march in bringing all of their cast and crew from the Mainland ... But over the years, and I think it really started with the first Hawaii 5-0 and Magnum P.I., we have built a very capable group of people who are very, very talented. Lost continued that, and the new Hawaii Five-0 has picked up a lot of the Lost cast and crew."
Part of the reason that incorporating local films into HIFF's programming is so important is that it allows Hawaii to be portrayed by the people who know it best. "Hawaii has typically been depicted beautifully with hula and sand and beaches. And it is that," he says. "But we who live here know that there is a lot more to it than that ... I think people here are trying to tell stories that have not been traditionally done."
Examining a side of Island life that is not often portrayed in film is exactly what director James Sereno aims to do with his film Paradise Broken, which premiers at HIFF Friday. The featurelength film centers around a young couple Ray, a drug dealer, and Misha, a prostitute as they try to make a living in the underbelly of Waikiki. Local author Chris McKinney wrote the script.
"When most people think of Waikiki, they think of the glitzy side," says Sereno, who was raised in Kaimuki, studied at USC film school and now lives in Palolo. Sereno wanted to take the audience past Waikiki Beach and Diamond Head and delve into the world beyond the glamour to what he calls "the flip side of Waikiki." "There is the tourism and the beauty of Waikiki, and that is great," he says. "There's also people who live and struggle in that world. There are a lot of issues here that I don't think come to the surface. I have seen a lot of films about Hawaii from an outsider's perspective showing our inside world."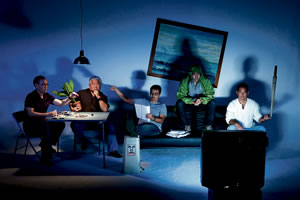 (from left) Local directors Ryan Kawamoto, Roy Kimura, James Sereno, Jay Hanamura and Nathan Kurosawa. Photo by Ashley Smith
While Sereno says there is nothing wrong with films like that, he is focused on giving an insider's peek of Hawaii to the outside world what he calls inside-out filmmaking.
Sereno is also involved with another HIFF film, 6B, an anthology of shorts by Sereno and other local directors including Ryan Kawamoto, Nathan Kurosawa, Roy Kimura and Jay Hanamura. The compilation includes stories about a man struggling with drug addiction, an ex-con trying to reconnect with his daughter and a family preparing for tsunami.
KNOTS, directed by Michael Kang, is another film that is part of Made in Hawaii. KNOTS is a comedy-drama that takes the audience into the lives of a colorful family as the eldest daughter, Lily, tries to save the family business and come to terms with her relationships with her ohana and her ex-boyfriend.
My KoAloha Story brings a real-life family to the big screen, documenting the rise of familyowned business KoAloha Ukulele.
Other local films include the coming-of-age tale Subjective Expressions and The Short List, a compilation of shorts ranging from a crime drama to a western. HIFF also showcases student short films from UH Manoa's Academy for Creative Media Oct. 21.
Plus, the Pacific Showcase Shorts section features a couple of local films, including Blessed Assurance a visually stunning short directed by Aina Paikai and produced by Evan Loney.
And if any film can attest to the vitality of the local industry, it's The Descendants. Starring Alist actor George Clooney and directed by Alexander Payne, the man behind the 2004 sleeper hit Sideways, The Descendants is a big-time production and is one of this year's most highly-anticipated films.
After its premiere at other festivals, the movie has received rave reviews, and whispers of Clooney's Academy Award-worthy performance are already circulating.
But while the film is causing quite the buzz in Hollywood, it's got local origins Maunawilibased author Kaui Hart Hemmings wrote the novel of the same title that the script was based upon.
The story is set in the Islands and was filmed on location on Oahu and Kauai, and a number of local cast and crew members joined the production. The film is centered on lawyer Matt King (Clooney), the descendant of Hawaiian royalty, as he has to decide whether to sell a valuable piece of his family's land while struggling to adapt to his new role as a single father.
Hawaii film enthusiasts lucky enough to snag a ticket before the showing sold out will get a first look at the film before its wider theatrical release. And audience members will be delighted to see a number of familiar locations, including the Elks Club in Honolulu.
HILuxury Magazine scored an exclusive interview with Clooney, Payne, Hemmings and producer Jim Burke for its October/November issue.
HILuxury publisher Linda Woo says the Honolulu publication was especially lucky to get in touch with Clooney, who was not granting any local interviews at the time.
"And the photos that the studio gave us were ones that nobody else had," says Woo. "It's so exciting. We're just really happy."
Add to the staff's elation, the magazine's exclusive coverage was picked up by E! News and SF Gate (the online presence of the San Francisco Chronicle). The issue is currently on newsstands. Pick up a copy at Longs Drugs, Barnes & Noble, Times Supermarkets and Fujioka's. Or, buy the electronic version at hiluxury.com.
Films will be shown at Regal Dole Cannery Stadium 18 & IMAX.
For the full schedule of HIFF films and to purchase tickets, visit hiff.org.
Most Recent Comment(s):