An Encore Performance
Wednesday - October 19, 2011
By
.(JavaScript must be enabled to view this email address)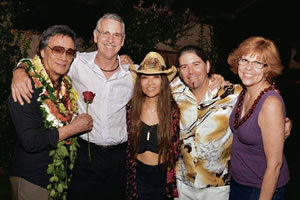 Borges with bass player Steve Jones, daughter Steffanie Borges-Juergenson and her husband Randy Juergenson, and wife Vicki
Believe it or not, for Jimmy Borges, having cancer has been the highlight of his life.
Yes, he's performed in showrooms and concert halls around the world, including for an audience with Frank Sinatra, Shirley MacLaine, Sammy Davis Jr., Nat King Cole, Dean Martin and Joey Bishop at the New Frontier Hotel in Las Vegas.
But after 56 years (and counting) of praise and applause, it's his recent battle with liver cancer that has brought him closer to his fans than ever before.
"When my doctor told me, 'Mr. Borges, you have cancer,' when you hear that it's surreal," he says. "Then, after beating cancer I found out it has been a blessing and a gift from God because it helped me realize that my singing was more than just singing as a career. When people found out that I was dying, I got calls from places like The Netherlands, South Africa, New Zealand, Australia, Asia, almost every state in the United States and Canada people telling me how my music affected their lives, and the reason they were telling me these stories was because they thought I was dying and I did, too, in essence.
"So, when I didn't die, what all this did was it validated my purpose in life. And once I realized that, it was the most humbling experience I ever felt."
It all started in April when Borges was experiencing a lowgrade fever and a tickling cough, and at the suggestion of his wife, Vicki, went to see his doctor.
He then was sent to get chest X-rays, and that's when doctors noticed something that prompted a CAT scan and an MRI.
"My life could not have been more perfect. Everything I wanted came my way, from my music, my family, my wife, and then all of a sudden this came in at the age of 75," says Borges, now 76.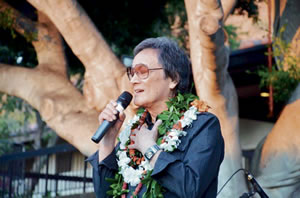 Jimmy Borges singing just eight weeks after surgery. Photos courtesy Jimmy Borges
"I went for four different second opinions, and two of the doctors said, 'If it were me I wouldn't do the operation because it's too large to operate on and it's too risky.'
"One doctor gave me a 5 percent survivability, and one doctor actually told my wife and her mother that, with my age and the size and location of the tumor, I probably won't make it off of the operating table."
While many of his friends told him to go to the Mainland where "the best doctors are," Borges met with his doctors at Kaiser and decided to stay home.
"I felt if anybody is going to save my life it was him (Dr. Ryan Takamori, a surgeon at Kaiser)," says Borges. "What he did for me was unbelievable. When I had my operation July 18, within three days I was walking, within six days I was eating solid foods and in 10 days I was out of the hospital.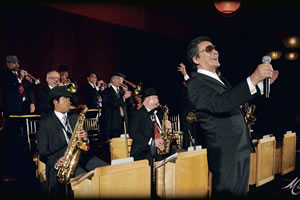 Jimmy Borges three days after finding out he has cancer
"And here's the miracle part of it: From that day on, I have never taken one pain pill. I really believe a lot has to do with how good they were at Kaiser my anesthesiologist, my radiologist, etc. they did their job so well that that's what happened.
"Also, I believe I'm here because of the prayers of all these people, and that energy going toward me and my wellness. I know that makes a big difference. And God, he was there for me. I call it a miracle."
Given a second chance at life, Borges plans to continue to sing.
His schedule so far includes A Cazimero Christmas at the Hawaii Theatre in December, New Year's Eve at the Halekulani with the Matt Catingub Orchestra, and a concert with the Maui Symphony Orchestra March 18. He also plans to record some songs with the jazz group Hiroshima.
Last month, just eight weeks after surgery, he took the stage at Gordon Biersch before a crowd of admiring family, friends and fans.
"I did a little over three hours of music and I could've done two more," he says. "My energy factor was so high and my voice was as good as it's ever been."
What could've very easily been a low point in his life Borges has turned into a high note.
He hopes to serve as a one-on-one mentor to young professionals who are involved in the arts.
"I have 56 years of experience, and it's a mandate for me to recycle that information," he says. "This is my time to give back."
Borges, who grew up in Kalihi, moved to the Mainland and pursued the music business when he was 18. Aside from listening to music by Sinatra and Mel Torme, he didn't have any mentors, and believes that if he did, it would've helped to eliminate "a lot of the foolish mistakes" he made in the beginning of his career.
"The gift of cancer opened up a door for me," he says. "It made me realize my value and my importance in dealing with the rest of the human race, especially with children.
"I want to dedicate this part of my life to the next generation who have the same passion as I do. I want to help them achieve their dreams."
Those interested can email .(JavaScript must be enabled to view this email address).
Most Recent Comment(s):