Youngsters With A Big-hearted Idea

Wednesday - November 23, 2011
By
.(JavaScript must be enabled to view this email address)
Kidz 4 A Cause founder Nicki Lee. Photo courtesy Cathy Lee
You may sometimes hear adults say that they feel sorry for our younger generations, that they have lost the meaning and values of hard work, respect and generosity.
Those folks haven't met the students who make up Kidz 4 A Cause. They're a perfect example of what is exactly right with our succeeding generations of youths and how they are working to inspire their peers.
Kidz 4 A Cause has taken the responsibilities of beneficiary work and wrapped it around performing and having fun. In 2008 Nicki Lee a then third-grade student at Hanahauoli School was asked as a school project to create a program that gave back to the community. Instead of opting to do a beach cleanup or start a recycling project, Nicki, after much brainstorming, decided to utilize her passions for singing and performing to help give back. She wanted to organize a benefit concert featuring herself and her friends to raise money for a select charity. After easily convincing her friends to join her in performing, and with the help of her mother, Cathy Lee, Kidz 4 A Cause approached Ronald McDonald House.
The initial Kidz 4 A Cause concert was a fairly amateur event held at Nicki's house on a makeshift stage, but the reception by her friends and family was remarkable. The performance raised $1,100 through ticket and concession sales for Ronald McDonald House. After collecting the proceeds, Nicki was able to personally present a check to Ronald McDonald House of Hawaii which houses and cares for thousands of sick children annually and she also had the opportunity to meet the staff and kids.
"That was my first glimpse of how some people live and how less fortunate some people may be. I think that helped me understand how to give back. I really think that experience did change my life," says a confident and articulate Nicki Lee.
After a two-year hiatus, the kids of Kidz 4 A Cause are back. With a sound understanding of what it takes to organize and execute a successful concert and how to raise contributions on a wider scale, this year's event has the makings of a phenomenal evening of singing, dancing, artistry and a host of other talents all for the benefit of giving back.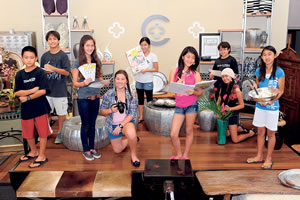 Sean Yamamoto (security chairman), Jacob Savage (registration), Teana Bryan (corporate prize director), Keri Wagner (communications director), Ayaka Kimura (artistic director), Nicki Lee (founder), Aaron Tsuchitori (graphic designer), Ava Williams (decorations chairwoman) and Risa Hata (food service coordinator). Lawrence Tabudlo photos

.(JavaScript must be enabled to view this email address)
Kidz 4 A Cause: A Concert with Nicki & Friends will be held Nov. 27 at Aloha Tower Marketplace with 100 percent of the donations to benefit the American Heart Association.
Nicki now in the sixth grade at Hanahauoli School has been eager to host another performance, and her maturity and that of her friends should be a reflection of the event. To Kidz 4 A Cause, the concert is not just about performing, it is important to them that all aspects of the show are handled in the most professional manner. Kidz 4 A Cause has gone so far as to create its own board of directors, with each member responsible for an individual task paramount to the success of the concert.
"This concert is completely powered by these kids, from the moment you walk in. They are handling everything from the concessions, ticket sales, registration, stage and costume decorations, hair and makeup, stage management, raffle prizes, security and communications," says Cathy Lee. "I am here simply to oversee. It is all the kids' organization. I just want to learn from them."
As founder and producer of Kidz 4 A Cause, Nicki and her friends have helped designate specific titles, duties and responsibilities to each board member. Unlike some organizations or businesses, where differences of opinions can hinder a board of directors' ability to function cohesively, Kidz 4 A Cause has kept the objective of giving back at the forefront of their minds, which helps guide their focus.
"Everything has been pretty smooth so far. We all like our jobs and know what we have to do, and are willing to do what it takes for each task," says Nicki.
This year's beneficiary has a personal, sentimental meaning to Nicki and the Kidz. The American Heart Association was chosen to receive their donations because when Cathy Lee was just 24, she was diagnosed with hypertension, leading to the premature birth of Nicki.
"My parents have always asked me to be grateful for what I have, and always try to give back. I really am so fortunate because I have a family that loves me and we're all healthy. When I found out my mom had hypertension and high blood pressure, I wanted to help American Heart Association," says Nicki.
Talents will be displayed by members of Kidz 4 A Cause board members, as well as other friends. Board member Ayaka Kimura will play a song on violin, and Teana Bryan will perform a dance routine with friends. There also will be a taiko drum performance, tae kwon do demonstration and plenty of songs to entertain throughout the night. Nicki whose role model and idol is Beyonce and who is also a member of Diamond Head Theatre's Shooting Stars program will highlight her desire and ability to perform. She has coordinated and choreographed the finale song in honor of the American Heart Association and its vision. During a recent rehearsal, Nicki's refreshingly energetic and caring spirit radiated as the group worked on its routine, showing glimpses of what a fantastic night of entertainment the concert is sure to provide.
Produced for kids, by kids, Kidz 4 A Cause's appropriately elected emcee Aaron Tsuchitori has a message for you about the Nov. 27 concert.
"Come to the concert, you know it will be good for you," he says.
Hoping to raise more than $10,000 for AHA, Kidz 4 A Cause is a testament to the kindhearted positivity that further proves that our future just may be in the hands of the right people.
Tickets for Kidz 4 A Cause: A Concert with Nicki & Friends cost $20 for adults and $5 for children age 5 to 17. Tickets are available at Cathy's Marketplace,
Most Recent Comment(s):