Hot Meals And Warm Companionship
Wednesday - November 30, 2011
By
.(JavaScript must be enabled to view this email address)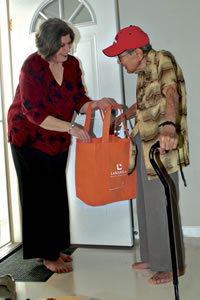 Fred Miyashiro (right) receives a hot lunch from Meals on Wheels Director, Lyn Moku. Nathalie Walker photos

.(JavaScript must be enabled to view this email address)
Fred Miyashiro is a typical recipient of Meals on Wheels, receiving a hot lunch every Monday through Friday. You'd never guess he was 91 years old, as he moves about on his own and talks with such eloquence and wisdom.
"I have my third leg, my cane, and my doctor said the best medicine is walking," he says.
His heart reflects a caring and kind spirit that makes those who step through the threshold of his house feel comfortable.
Lanakila Meals on Wheels is the state's largest and only islandwide meal service for seniors, and it serves well over 250,000 meals each year. With only nine staff members, Meals on Wheels relies on its volunteers. This is a program that's vital for seniors, and it's much more than just a meal. Sometimes the volunteer delivering the meal is the only person the senior comes in contact with each day.
"I know sometimes our participants are dressed up and sitting in a chair just waiting for the volunteer to deliver the meal. It's really their connection to the outside world," says Lyn Moku, director of Meals on Wheels. "Volunteers provide a little bit of companionship for the seniors."
Sadly, there are 90 people on the Meals on Wheels waiting list.
"Every month we're getting new applications for the meals, and that's why it's so important with this year-end campaign to raise money," says Moku, who expects that number to grow.
As our baby boomers and population as a whole age, the number of people who are eligible for the program continues to grow.
"We are seeing a real increase in the need for meals," Moku says.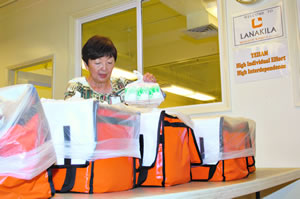 Volunteer Rosie Pai helps prepare meals to be delivered.
Many of the seniors in the program live alone without a caregiver or family member to assist them. They have problems with the basic activities of living, such as bathing, dressing themselves, preparing their meals, eating and cleaning. With Meals on Wheels, they're getting a nutritious meal at least once a day.
The agency needs to raise about $120,000 to meet its budget requirements. However, because there are people on the wait list who weren't anticipated, it needs to raise an additional $170,000 to accommodate them until the end of the fiscal year in June 2012.
Fliers will be sent out to supporters, and there also is a "Santa for Seniors," in which people can donate Christmas gifts or cards for the seniors. Meals on Wheels has two large holiday meals (Thanksgiving and Christmas), which will cost a little more than $15,000.
Longs Drugs will contribute goodie bags for Christmas, and Meals on Wheels is grateful for its support.
"We've been blessed with volunteers, as well," Moku adds.
Volunteers for Thanksgiving and Christmas have already signed up, but Moku is always looking for more.
Hot meals are delivered Monday through Friday for lunch, and there also is a program that delivers frozen meals for the seniors who prefer keeping five to seven meals in the freezer to enjoy later.
There are two programs. One is the home delivery, where participants can have either hot or frozen meals. The second is the 16 kupuna wellness centers, which are group dining centers where seniors can go to enjoy a hot meal together. In addition to that, there are socialization, recreation and social programs, and educational programs that provide information on nutrition for seniors and how to protect themselves against fraud.
There is always a need for volunteers, from preparing the food to making deliveries to helping out in the office. There's so much to do, and with a limited staff (of nine), we're always looking for volunteers," Moku says.
Miyashiro's parents came from Okinawa, and he was born and raised in Waipahu. The "shiro" in Miyashiro is a name for the Emperor's palace.
"So, they ask me, 'Oh Miyashiro, must be connected with the Emperor,' and I say, 'Yeah, he was a janitor over there.'"
He tells stories of how the Okinawans survived when weather-related calamities hit. They would plant sweet potatoes, and when the disaster was over, after everything got swept away, the sweet potatoes remained in the ground for them to eat.
But he doesn't attribute his long life to his Okinawan heritage. "I'm a crazy guy, maybe that's why I live so long," he says.
Miyashiro married in 1943, but although he cannot remember the exact date of his wife's passing, he misses her dearly. The couple had no children.
During World War II, he was deemed not fit for duty because of a physical ailment, but he believes that disability was a higher power protecting him.
While he doesn't have a favorite meal, Miyashiro enjoys all the food that Meals on Wheels prepares for him.
"I come from a family of nine children five girls and four boys and I'm telling you, if you don't eat fast, you don't eat." While he says he hates asking people to do things for him, he feels extremely grateful that volunteers take the time to give back to people like him.
Leatrice Tam, Darien Ching, Steve Armstrong, Vincent Ikeda, Jean Miyashiro and Florence Loo have all been volunteers who have delivered food to Miyashiro's house, and he had prepared a list of their names.
"I want you to put them in the article. I'm telling you, these people are beautiful people," he says.
Armstrong had gone on vacation with his wife, and the first place they hit was a drugstore where he saw a red "Canada" hat, which he brought back for Miyashiro who purposely wore it for the interview.
"The best part of the whole thing is that I love the volunteers," Miyashiro adds. "Every day, something really nice happens to me, and I'm grateful."
Most Recent Comment(s):