Preserve Pristine Places, Rescue Others
Wednesday - December 21, 2011
By Chad Pata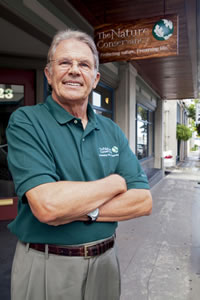 Kenton Eldridge. Nathalie Walker photo

.(JavaScript must be enabled to view this email address)
While most of us this time of year are primarily concerned with preserving one particular Norfolk pine until at least Dec. 26, Kenton Eldridge, as the new chairman of The Nature Conservancy of Hawaii board, is concerning himself with how to preserve as many trees as he can for the generations yet to come.
The Nature Conservancy is celebrating its 60th anniversary this year and its successful protection of more than 119 million acres of land in 33 countries and all 50 states. It also has protected 5,000 miles of rivers and operates more than 100 marine conservation projects globally.
For Eldridge, who has been a TNC board member for the past 11 years, being offered the position to lead the organization locally was a dream come true.
"They are the world's leading conserver of lands worldwide. They constantly make good things happen to protect nature," says Eldridge, a native New Englander who moved to the Islands in 1983. "Why wouldn't I want to be part of an organization like that?
"I have always been an outdoors person. I fished and camped and have run long distance most of my life. I spent so much time outside that I became very sensitive to the changes in our environment. Nothing is more important to humanity than nature, and nature needs our help right now."
Eldridge takes over for Duncan MacNaughton, the founding partner of The MacNaughton Group, who oversaw some exciting work in the past few years. First is the work it did clearing invasive algae from Maunalua Bay.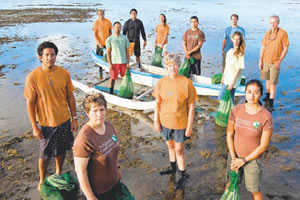 Members of Malama Maunalua teamed with The Nature Conservancy to remove alien algae. John DeMello photo
Local residents had been complaining for years about the algae taking over the bay off Hawaii Kai, and when federal stimulus money became available, TNC partnered up with NOAA, Pono Pacific and the community group Malama Maunalua to try to eradicate the creeping menace.
In the process, 75 new jobs were created as they cleared 26 acres in the bay with a total of 3 million pounds of algae removed. The results have been immediate and wonderful for local residents and wildlife alike.
"We are already seeing great results as the bay now, once again, has a sandy bottom and clear, clean water," says Eldridge. "Native sea grasses are growing back and there are reports of stingrays, large fish and seabirds returning."
The project was so successful that the first mission Eldridge wants to take on as chairman is to mirror that project in Kaneohe Bay, which is experiencing a similar invasion, and he hopes to announce the beginning of work on the Windward side after the first of the year.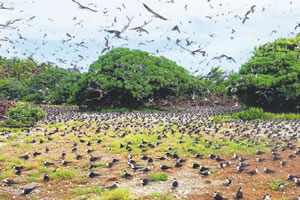 Without rats, seabirds have returned to Palmyra Atoll. Susan White / USFWS photo
"We are very goal-oriented; we manage by science and keep our goals manageable," says Eldridge, who spent half a century working in the retail industry. "A prime example of this is Maunalua Bay. It was a dream three years ago and you can see the results today. And we want to replicate that initiative in Kaneohe Bay."
As the Hawaii branch of TNC, its responsibility extends beyond our bays when it comes to helping out the environment. Locally it has protected more than 200,000 acres and has created 10 preserves containing 36,000 acres, but some of its most transformative work happened 1,000 miles south of Hawaii on Palmyra Atoll.
TNC purchased the atoll, and along with the U.S. Fish and Wildlife Service and NOAA, created a national wildlife refuge. But in order to do that, they first had to remove some wildlife that had been destroying the environment.
During World War II, Navy ships had used the atoll and allowed black rats to escape from the ships onto the land. The rats had taken over the island during the past 70 years, swelling their population to more than 1 million strong, eating everything from native insects to crabs to nesting birds' eggs. Using a crew of around 50 people and some ingenious traps in the trees, they eradicated the entire rodent population and returned the atoll to its pristine pre-World War II state.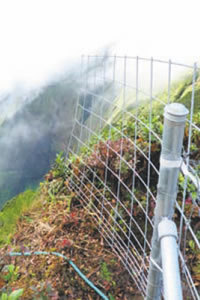 Fencing on Kaua'. Photo courtesy The Nature Conservancy
"Birds have come back, dragonflies are there that have not been there for years," says Eldridge, who on a recent trip there had to have the plane do a flyover once to scare away the mass of native birds that were now covering the runway. "It is really interesting how quickly wildlife is returning."
Back in the Hawaiian Islands, Eldridge says his focus will be on forests, watersheds and coral reefs. He says that ground water levels around Pearl Harbor have dropped by 50 percent during the last 20 years. This is the reason he is throwing TNC's support behind a proposal by Gov. Abercrombie to spend $11 million a year for the next decade to protect and replenish our forested watersheds.
The protection may take the form they used on Kaua'i, where a pair of fences totaling more than five miles through some remote wilderness is being used to protect the watershed and native flora and fauna from being destroyed by wild pigs and goats.
Coordinating with local governments and community leaders is one of the main reasons TNC has grown as large as it has, last year totaling $5.6 billion in assets and boasting more than 1 million members. The organization believes that by a less in-your-face approach than you see with conservation groups such as Greenpeace, it can accomplish more good for the environment.
"We use a non-confrontational approach, and we are science-driven and produce tangible results," says Eldridge. "Finally, we are accountable: 84 percent of all funds are used directly for conservation."
While TNC has accomplished much in its 30 years in Hawaii, Eldridge knows there is a lot more work to be done if his progeny are going to get to enjoy the wild nature of these Islands the way we do today.
"I have two grandchildren, and it is important for me to do whatever I can to preserve Hawaii's environment," says Eldridge, "and not just for my grandchildren, but for their children as well."
Most Recent Comment(s):