Ace Yonamine

Wednesday - August 10, 2011
By
.(JavaScript must be enabled to view this email address)
|
Share

Del.icio.us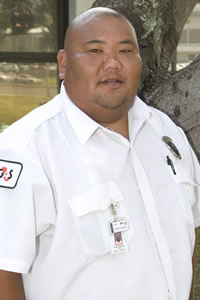 Leah Friel photo

.(JavaScript must be enabled to view this email address)
Ace Yonamine didn't have any idea an acting career was even a possibility, but a positive first impression created a snowball effect that sent him rolling into a new career opportunity. Before Hawaii born-and-raised actor Yonamine had parts in major motion pictures such as The Replacements in 2000 and Memoirs of a Geisha in 2005, he was working as a sumo wrestler in Japan.
"Basically the acting started when I came back from Japan. I had a couple of friends already modeling, and at that time sumo was getting popular in Hawaii, so a lot of advertising agencies were looking for wrestlers," says Yonamine, who was featured on MidWeek's cover Aug. 13, 2003.
After Yonamine's lovable character in The Replacements, Jumbo Yokimo who coincidentally was an ex-sumo wrestler turned football player gained popularity, a handful of new roles, starring with some of Hollywood's biggest names, presented themselves.
In 2003 Yonamine was able to work side-by-side with Angelina Jolie, with whom Yonamine gained respect and friendship, in Lara Croft Tomb Raider: The Cradle of Life.
"You see her (Jolie) as a person in a way Hollywood and the tabloids picture her, but when you really get to work with her, especially one-onone, you see a whole different side to her," adds Yonamine. "It was a great experience.
"I also have been able to work with Gerard Butler in Lara Croft Tomb Raider: Cradle of Life, and at that time he really wasn't that known, but after that you see how he just blew up all over the screen. For those moments, I see how lucky I was to experience all that."
Working mostly in advertising recently, Yonamine can be seen on an international scale as a spokesman for Bud Light as well as promoting cough syrup, and freelancing in Mexico and in the United Kingdom.
Diagnosed with a kidney condition this year, Yonamine is addressing that issue, a condition he is confident he will overcome. He continues working security at the courthouse in Pearl City.
"This has been almost life-changing," he says. "I have to go through dialysis, and it is like a part-time job to go through it, but it is just not an option not to, so it has become a part of my lifestyle for now."
Most Recent Comment(s):