Delorese Gregoire

Wednesday - July 28, 2010
By
.(JavaScript must be enabled to view this email address)
|
Share

Del.icio.us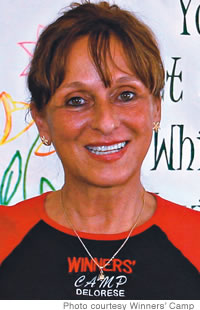 President Abraham Lincoln once said, "You cannot strengthen the weak by weakening the strong." It was this very belief that resonated with Delorese Gregoire 25 years ago and inspired her to start a leadership program for teenagers moving toward success and demonstrating leadership potential.
This leadership program is the Winners' Camp Foundation, located at Hawaii Leadership Academy on top of Kamehame Ridge (between Hawaii Kai and Waimanalo). As founding director, Gregoire is continuously working to see that the next generation is well equipped to become adequate leaders of tomorrow.
"We teach the five 'R's' of life - respect, responsibility, resourcefulness, restraint and resilience," she says. "Winners' Camp strives to give participants a taste of the knowledge of all times and ages, knowledge of how to look to the source, or nana i ke kumu. Winners' Camp teaches teens to realize that true knowledge brings understanding and self-awareness, and will lead to a more positive and successful life."
Gregoire and her team of 25 specially trained volunteers and a core staff of highly experienced professional facilitators work with teens (ages 12 to 16) to break self-imposed limitations and create a positive sense of self-identity through a safe, supportive environment. By conquering outdoor events like high ropes courses, teenagers learn to recognize their own courage and self-confidence, while reaching their highest potential.
Participants also learn particular techniques to help them further succeed in the classroom, including accelerated note-taking, memory training, visualization and creative thinking techniques and management methods.
Gregoire appeared on MidWeek's cover in December 2005 and is continuing to work on fine-tuning all existing programs within the camp. She's also currently working on developing leadership training for "tweens," ages 7 to 11.
"My big project as we speak is preparing for our 25th anniversary celebration on Aug. 15, exactly 25 years to the day of our very first camp in 1985," explains Gregoire, who is a grandmother of three herself.
The 25th anniversary celebration happens 1 to 4 p.m. at the camp. Families are invited to learn more about the camp, share stories, participate in ropes courses and take part in other fun activities.
"The most rewarding aspect of my job is seeing and experiencing teenagers and their families having breakthroughs in their relationships and enjoying each other during this great passage from child to adult," she says.
Winners' Camp conducts summer and spring break sessions, with the next one scheduled for Aug. 8 to 14. Standard tuition costs $980, but in honor of its 25th anniversary the upcoming camp registration will be offered at a special rate of $490.
For more information, visit winnerscamp.com or call 295-3211.
Most Recent Comment(s):