Emme Tomimbang
Wednesday - June 28, 2006
By Kerry Miller
|
Share

Del.icio.us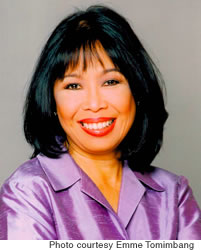 Emme Tomimbang
Emme Tomimbang is a busy woman these days. She has been running her own multimedia company, Emme Inc., for the past 12 years, and has just finished a documentary about the Filipino centennial celebration that is near and dear to her heart. The documentary airs 9-10 p.m. tonight and tomorrow (June 28-29) on KHON-2.
"This is the most difficult, comprehensive project I've done in my entire career. To put 100 years into two one-hour segments is difficult," says Emme, who has appeared on two MidWeek covers, in March 1986 and June 2003.
"It's very personal to me because my father was a plantation worker. It's a very heart-driven project."
The documentary is titled, Mabuhay with Aloha: The Hawaii Filipino Experience 1906-2006. It commemorates the journey, the struggles and accomplishments of Hawaii's Filipinos over the last 100 years, as this year marks the Filipino centennial in Hawaii. Tonight's episode highlights the first 50 years of Filipinos in Hawaii, and covers migration, early plantation life with personal anecdotes, stories of life on the plantation and specific events. The second half, 50 Years and Beyond, is a contemporary look at how Filipinos have evolved in Hawaii, including changes made since moving away from plantation life, or as Tomimbang says, it tells the story of the "next generation" of Filipinos. "We are the third largest ethnic group in Hawaii. We've done quite well in these first 100 years," says the former KITV and KHON news-woman.
Tomimbang and her staff spent the last year researching the history of Filipinos in Hawaii and visiting the other Hawaiian Islands. They also traveled to the Philippines to add to the documentary, and while a lot of the footage of that trip didn't make the film, Tomimbang says she plans to air it on an upcoming show in August called Emme's Mabuhay Moments, for her Emme's Island Moments show.
Otherwise at Emme Inc., Tomimbang says, "this is such a big year for me. The show (Filipino documentary) is going to be in the Hawaii International Film Festival (in October). We're hoping for a rebroadcast on the local PBS station (and are) in negotiations for broadcast on the Filipino global channel. It's quite a feat."
In the future for Emme is a special on the fifth anniversary of Sept. 11 and a Christmas television concert, featuring many of Hawaii's Filipino artists. Outside of work, Tomimbang says she enjoys spending time with her husband, Judge James Burns, and is "trying to golf more, but I haven't had time. I'm kind of working on projects around my house, and hope to go back to the Philippines and go shopping."
- Kerry Miller
Most Recent Comment(s):