GINAI

Wednesday - January 19, 2011
By
.(JavaScript must be enabled to view this email address)
|
Share

Del.icio.us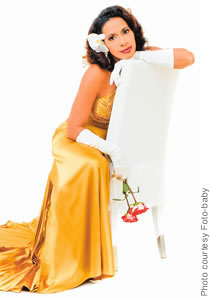 Local songstress Ginai and band Hot Club of Hulaville are making a splash on a national level as their album Django Would Go! has risen to No. 1 on the Roots Music Report for jazz albums. Formed in 2007, Hot Club of Hulaville has been received extraordinarily well, and Ginai has dedicated an enormous amount of time and effort to making the band, image and music authentic, holding true to its hot club, gypsy virtuoso, Django Reinhart jazz style.
"I co-produced the record with the band, I wrote a couple of the original songs, I definitely helped spearhead the recording process, adding effects where needed," says Ginai, who appeared on the cover of MidWeek in 2006. "That doesn't discount the amazing graphic art efforts of Sonny Silva. We were able to put together the most innovative beauty packaging the island has ever seen. The whole country is abuzz over the presentation. "
Ginai also recognizes that a unique aspect of Hot Club of Hulaville is the incorporation of herself as a vocalist, which is rare for this type of band. "Adding a vocalist to an instrumentalist vibe opens up your audience exponentially," she adds.
As someone who once concentrated the majority of her vocal stylings on jazz and R&B, Ginai now embraces and has expanded the scope of her vocals. "In regard to the artful performances, I am using a part of my voice that I have never used before," says Ginai, who garners a lot of her inspiration from the "Black Venus" of entertainment, Josephine Baker. "I am doing a more classical style and it's endearing fans quite a bit, actually."
Since Ginai was a child she has been entranced by the spell that music has over her. "I absolutely love music. It just zings the strings of my heart," she adds.
And now Ginai's career is broadening even more as she has started her journey as a playwright, creating the Django Would Go! gypsy operetta that goes hand-in-hand with the band's musical endeavors. The Django Would Go! music festival also will be held this October on Maui.
You can check out Ginai's music at Open House with Ginai, featuring new musicians and songwriters each Saturday night at Brasserie Du Vin, as well as with Hot Club of Hulaville, which performs every third Wednesday at the same venue.
Most Recent Comment(s):