Paul Achitoff
Wednesday - March 26, 2008
|
Share

Del.icio.us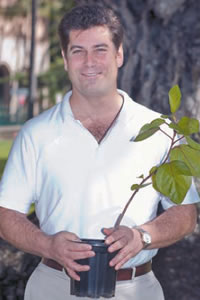 Paul Achitoff became an environmental lawyer, essentially, as soon as he arrived in Hawaii in 1990. Out of his small office on the borders of downtown Honolulu, Achitoff fights the good fight for animals, plants and farming communities through out the Islands.
"These days, what I've been focusing on is wildlife protection," he says, "particularly endangered species and genetic engineering."
Achitoff decided to take up environmental law after working for a law firm in Los Angeles, arguing a case for defendants who were polluting the water system and actively harming the surrounding community.
"I got pretty tired of that and didn't want to be spending my life just making arguments on behalf of whomever is willing to pay me," he says. "So the work that I do now, I only represent groups that I choose to represent. I only take on issues I choose to take on because I believe in them."
It was here in Hawaii where Achitoff began learning about the aspect of law in which he was so interested. "I started learning more about environmental law - that was at the Carlsmith (Ball) firm, one of the big downtown firms in Honolulu - and I started to develop that firm's environmental practice while I learned about the issue myself."
The Columbia Law School graduate eventually joined Earthjustice, a non-profit public-interest law firm that takes cases that defend the environment. His latest case has to do with the high-intensity sonar systems the Navy uses.
"It has impacts on our marine animals - particularly our humpback whales - and has resulted in the death of whales around the world," Achitoff says.
The Navy plans to use the sonar in several undersea warfare exercises around the Hawaiian Islands and near Papahanaumokuakea Marine National Monument located in the Northwestern Hawaiian Islands, noted an Earthjustice e-mail.
"I think Hawaii's cultural and natural resources are very lucky to have him on their side," says Marti Townsend, program director at KAHEA, who adds that Achitoff is unshakable when it comes to doing his job. "The (defending attorneys) usually outnumber him and out-finance him, and he's able to stay focused on the issues and keep working the case until he wins."
District Court Judge David Ezra heard the case Feb. 11.
Most Recent Comment(s):