Sam Kamaka Jr.
Wednesday - April 26, 2006
By Kerry Miller
|
Share

Del.icio.us
Correction: In the April 26 MidWeek "Old Friend" interview with Sam Kamaka Jr., it was incorrectly stated that Freddie Kamaka Jr. is the son of Sam Kamaka Jr., when in fact he is a nephew. Sam Kamaka Jr. does not have a son named Sam. MidWeek regrets these errors.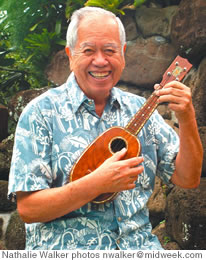 Sam Kamaka Jr.
Sam Kamaka Jr., the heir to Hawaii's "ukulele throne," is enjoying his retirement years. He's spending more time with family but still keeping a watchful an eye on the business his father started 90 years ago.
"It's nice to know the ukulele is still popular. I can't keep up with all the orders that come in," says Kamaka, the friendly Hawaiian icon who graced MidWeek's cover back in August 1989.
"The ukulele has always been our bread and butter." These days Kamaka spends most of his time at his family's home in Kaneohe, where "my dad bought property in the '30s. We're still here," he laughs.
When he's not at home, Kamaka works with sons Chris, Sam and Freddie Jr. at Kamaka Hawaii Inc., the ukulele company famous for the pineapple-shaped ukulele. In 1916, Sam Kamaka Sr. started the company in the basement of his Kaimuki home. To this day, the same Big Island wood is still used to manufacturer Hawaii's most treasured musical instrument.
"It's beautiful wood (and) has good resonance. It takes a lot of patience and time to air-dry everything. Every inch of lumber takes a minimum of one year (to dry)," Kamaka explains.
On March 18, Kamaka Hawaii Inc. celebrated its 90th anniversary with a gala at the Hawaii Convention Center, featuring many Island entertainers, including Jake Shimabukuro, Aunty Genoa Keawe, Benny Chong, Bryan Tolentino and others.
"My oldest son, Freddie Jr., is still active in the business, he manages the office. Chris is so busy with his music, (but) works at the ukulele company in his free time," says the proud dad. "As long as they're happy with what they're doing. It's been a tradition in the family since my dad got started. It's been a fabulous journey."
Chris Kamaka shows off his musical talents playing the bass and fiddle, instruments his dad says he played during his time in the military. Kamaka's youngest, Kelly, works as a pilot for different airlines, and Dad has made sure "he knows all about the ukulele, too."
Most of the women in Kamaka's family are "all are involved with raising children, (but) they love the music of the ukulele," he says.
In the future for Kamaka Hawaii Inc., Kamaka sees the need to maybe move the company from its current location at 550 South St. in Honolulu.
"Eventually, we'll have to relocate," he says. "That's going to be the next project for the boys."
- Kerry Miller
Most Recent Comment(s):