All Fired Up Over Kailua's Uahi Island Grill

By
.(JavaScript must be enabled to view this email address)
Wednesday - October 06, 2010
|
Share

Del.icio.us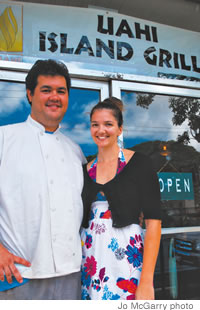 Chef Nick Yamada and Nani Nikcevich
When Nick Yamada, the chef-owner of Uahi Island Grill, starts talking about the banana cream pie that his mom just made with bananas from her garden, or his partner Nani Nikcevich's Malasada Sundae with hot malasada, house-made vanilla ice cream and chocolate-dipped bacon drizzled with Ohi'a Lehua Honey ($6), you may be forgiven for thinking you've died and gone to heaven. But the desserts are just one reason to try this utterly fabulous spot in the heart of Kailua.
With apologies to Kailua residents already tired of townies traipsing over the hill to visit, you can blame Yamada and Nikcevich for this one. Their sense of hospitality coupled with an undeniable talent for creating contemporary island food is destined to bring foodies from far and wide.
Uahi Island Grill, formerly on Uluniu Street, gets my vote as one of the best new restaurants of the year.
The reason?
Not just the excellent use of local produce, but a menu that is a near perfect and accurate representation of Hawaii's rich culinary heritage as it is today. That culinary melting pot you're always reading about? Yamada has brought it to life on a menu that owes nothing to fusion or fancified dishes, and everything to honest and unpretentious cooking. From Pork Chop "Pastele" ($14.50), a fork-tender, oven-braised pork chop smothered in pastele stew, to Steak Pa'akai ($18.50), to fish smothered in cilantro and ginger pesto, or French and Chinese influenced Mandarin Duck Confit ($16.95), you'll find a taste of contemporary Hawaii. And in the spicy flavors of Taegu Shrimp ($10) with Korean chili sauce, or Vietnamese-style Lemongrass Lamb ($18), you'll find a young, confident chef who's found his culinary style.
Local style Garlic Ahi (market price), crispy Garlic Chicken ($7.50) and Red Curry Grilled Fish share menu space with intensely flavored Beef Tomato ($10.75) and smoked Irie Chicken ($9.75). At lunch, salads, sandwiches and plate lunches feature seasonal local produce, and all entrees come with rice, mac salad and house-made slaw. I can easily declare the Seared Ahi Salad (with arare chips instead of croutons, and North Shore lettuce, local tomatoes, onions, bean sprouts, cucumbers, peppers, edamame and carrots) to be one of my new favorite dishes.
Order from the counter, pay before you eat, and enjoy Hibiscus Agave Tea, Mount Ka'ala Coffee or Wailua Sodas while you wait. Or ponder the loveliness of a dessert case filled with caramel tarts, chocolate cake with peppermint frosting, strawberry bars, brownies and lilikoi cheese-cake, all a vision of perfect, sugar-filled, home-cooked loveliness.
The service is unhurried and extremely welcoming, which is what you might expect from a restaurant where the owners exude uncommon grace and modesty.
"We're just trying to make local food a little different," says Yamada.
I say go for dinner.
Happy eating!
To hear a conversation with Chef Nick Yamada: www.tabletalkhawaii.com
Uahi Island Grill 131 Hekili St.
Kailua 266-4646 Open daily for lunch and dinner. Closed Sundays.
Most Recent Comment(s):