A Whirlwind Windward-side Tour

By
.(JavaScript must be enabled to view this email address)
Wednesday - April 14, 2005
|

Del.icio.us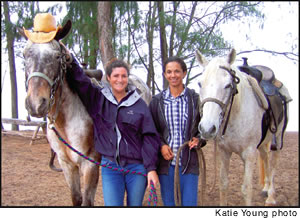 Turtle Bay Resort trail guides Mia Russi (left) and Alicia
McCumbers will show you the beauty of the North Shore
by horseback. Also pictured are their trusty steeds,
Casper (with his cowboy hat) and Spirit.
It never dawned on me until a friend visiting from the Mainland asked, "When was the last time you really enjoyed paradise?"
She was right. I've lived here my entire life, but when was the last time I took a trip to the North Shore or hiked Diamond Head?
When people visit from the Mainland, that's when I scurry to think of all the things I should be enjoying because I live in Hawaii, but never make the time to do.
The last time I went to the Polynesian Cultural Center? With my parents when I was 10. The last time I went snorkeling at Shark's Cove? 1996. The last time I was blown away at the Pali Lookout? Umm … never.
I'm ashamed, to say the least.
I got caught up in the day-to-day shuffle of life. I barely remember what it feels like to have the sun on my face! So I decided it was about time I revisit paradise lost and remember why I'm so lucky to call Hawaii home.
Sebastian and I got in the car last weekend and just drove. Here are a few things we noticed along the way.
Starting up the Windward side to the North Shore first:
• Hop on the Pali Highway and stop off at the Pali Lookout. Bring a jacket to shield you from the wind and capture a panoramic shot of Kaneohe Bay, Mokapu Peninsula, the cliffs of the Ko'olau Mountains and Chinaman's Hat. You can also hike down the Pali Trail.
• Take a walk on Lanikai Beach in Kailua or rent a kayak (about $45 for a half-day double) from Hawaiian Watersports (255- 4352) or Kailua Sailboard and Kayaks (262-2555) and paddle out to the Mokuluas. If your arms are tired, paddle around by Kailua Beach and make it to Flat Island. Bring a mask and snorkel. You might catch a glimpse of sea turtles swimming around in the shallows. If you're daring, try a little kite surfing (about $125 for first lesson) or wind surfing (about $75 for one person, $100 for two). Call Naish Hawaii at (262-6068) or Hawaiian Watersports.
• In Kaneohe, if you're into sightseeing, stop off at the 400- acre Ho'omaluhia Botanical Garden. Admission is free. Or pay $2 and tour the Valley of the Temples where you can see the Byodo-In, a replica of a 950-yearold Buddhist temple in Uji, Japan.
Back on the water, one of the most exciting kayak (or boat) trips you can take is to the sunken island, better known as the "Sand Bar," in the central part of Kaneohe Bay. At low tide, a sandy area the size of a football field is exposed, perfect for picnicking and spending the day. Go even farther and park your kayak at Kapapa Island (about 2.4 miles from Oahu's shore) and walk around. Another island in the Kaneohe area worth visiting is Chinaman's Hat. You can walk there when the tide is low.
On your way from the Windward side to the North Shore of Oahu, there's lots of scenic splendor. The drive is serene with the ocean on one side and mountains on the other. The two-lane road passes Kualoa Nursery and Gardens, home to a macadamia nut farm.
• Kualoa Ranch has plenty to do — from horseback riding to ATVs to ranch movie-set tours. Explore the Ka'a'awa Valley any way you please. See aquaculture ponds and pass by 30 acres of orchids. For movie buffs, see where Jurassic Park, Mighty Joe Young, Pearl Harbor and Windtalkers were filmed. Monday through Friday, Kualoa also offers snorkeling and scuba diving. Kama'aina rates apply! (Visit www.kualoa.com or call 237-7321.)
• Keep driving through Punalu'u and Hau'ula and make your way to the Polynesian Cultural Center in Laie. Spend a whole day exploring the center's seven villages and hands-on activities. Stay till sunset and enjoy the luau food and show, which are first-class. PCC opens at noon, dinner starts at 5 p.m. (closed on Sundays.) Fee is $64 for kama'aina and includes admission to the center and the dinner show. (Call 293-3333.)
• A quick stop-off worth a few minutes is the sea arch at Laie Point. Across from the Laie Shopping Center, turn right on Anemoku Street, then a right on Maupaka. Legend has it that a tsunami literally punched a hole through this off-shore island in 1946 on April Fool's Day.
• Camping at Malaekahana. Though the 60-year-old cabins are scheduled to be torn down in the near future, they are still available "as is" to stay in for what is called "indoor camping." Coming up are yurts (big round tents) that come with beds and hotel-size refrigerators. Malaekahana allows stays of two days per week or seven days per month. There is a two-night minimum. Yurts start at $40 per night; cabins start at $66. (Visit www.malaekahana.net or call 293-1736.)
• Just past the Kahuku Sugar Mill is a little stand on the left side of the road just beyond Romy's Shrimp that sells papaya and the famous Kahuku sweet corn. Owned by the Nozawa family, the stand, open since 1987, has no set hours. They're open daily, weather permitting, and close up as soon as they sell out. Recently, the bad weather has put a damper on corn growing, but Robert Nozawa expects to have the sweet kernels available by early May. Definitely worth pulling over for!
• The last stop on this week's tour takes us to Turtle Bay Resort. With five miles of white sand beaches, five secluded bays and a view of the Pacific Ocean from every guest room, this is a great place to stay more than just one day. Turtle Bay completed a $60 million renovation in 2003 of the resort's guest rooms, beach cottages and other facilities. There are two beachside pools, one with a waterfall and water slide. There are also two outdoor jacuzzis, 12 miles of oceanfront hiking trails, two champion golf courses, a surf school, 10 tennis courts, a full-service spa and exercise classes.
I recommend a relaxing oceanside massage, then taking a sunset horseback ride (90 minutes for $65) along the ironwood forests and down the sandy coastline. End the evening by treating yourself to a meal that will have you swooning, created by Chef John Armstrong at Turtle Bay's newest dining establishment, 21 Degrees North.
For the month of April, Turtle Bay Resort is offering a special kama'aina rate of $159 a night normal rates are $209). So it's the perfect time to go ahead and indulge! (Call 293-8811.)
Next week, we continue our journey along the North Shore.
.(JavaScript must be enabled to view this email address)
Most Recent Comment(s):