Beginning A Healthy Relationship

By
.(JavaScript must be enabled to view this email address)
Wednesday - February 07, 2007
|

Del.icio.us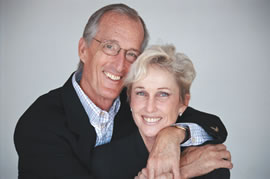 Tom Merrill and Bobbie Sandoz-Merrill
In the beginning of a new relationship, everything is supposed to be great, right? Your new partner appears to be just about perfect in every way. This is the one you've been waiting for.
But as time goes on, the real issues begin to emerge, the fights become more frequent and suddenly, it seems, you have a bevy of problems to contend with. You feel confused as to how things went so bad when they were so perfect ... in the beginning.
Or were they? Too many times, the excitement and newness of a relationship can lead us into two pitfalls: making our partner into something they're not by failing to ask the necessary questions and/or "putting on a show" ourselves - not being honest and upfront about who we truly are as an individual.
There are tons of books out there explaining how to fix an unhealthy relationship once we're already knee-deep in it, but wouldn't it make more sense if we made sure that we began each new relationship already healthy?
Most definitely, say Tom Merrill, Ph.D., a certified clinical psychologist, and his wife, Bobbie Sandoz-Merrill, a clinical social worker. They are authors of the book Settle For More: You Can Have the Relationship You've Always Wanted ... Guaranteed!
It examines how we can establish and maintain lasting and loving relationships - from the beginning.What a concept.
"The first thing that comes to mind for me to make sure I get the relationship I want: Be very, very clear about what kind of relationship that is," says Merrill, a member and past-president of the Hawaii Psychological Association.
This doesn't mean deciding what your ideal person would look like or how much money they'd make - it means thinking about the fundamentals of the kind of person you'd like to be with.
"The other thing is that I need to be consistent with the relationship I want to be in," says Merrill. "For example, if I say I want to be in an honoring, loving, committed relationship, then I have to practice that daily."
Sandoz-Merrill, also an award-winning columnist, agrees, "A good example is that people say they want to be in a honest, open relationship. But then down the road they say, 'Well, everybody has their secrets.' The practice, therefore, of what they're saying they want isn't real to them."You have to think about the nitty-gritty details, she says.
Merrill says the model of how many people run their relationships is that they want their partner to be a certain way, but they don't hold themselves to that same ideal.
"Often people say they want their partner to be open and honest," he says. "but they think it's OK for them to hold things back because they don't want to hurt their partner's feelings or make them angry."
And part of holding yourself to that same standard, says Merrill, goes back to knowing what you really want out of a relationship to begin with.
It is different than meeting someone, falling in love and deciding you want to spend your life with that person.
"You might fall in love and the other person might be totally incapable of having the kind of relationship you want," Merrill explains. "You can't scold someone or argue someone into being what you want."
This is why, when starting a new relationship, it's important to ask your partner the appropriate questions about how they feel and what they want as well as tell them about your own relationship needs.
The only way to stay in a loving relationship, say the Merrills, is to be mindful of it.
"People think relationships don't work out because it just wasn't the right person," says Sandoz-Merrill. "But really, it's because they failed to tend to the relationship. Love doesn't just go away automatically. We make it go away because of how we behave."
Perhaps the greatest argument for beginning your relationship healthy is that it's easier to put in that work in the beginning, says Sandoz-Merrill, than to try to mop up the messes you make when you don't. Beginning it in a healthy way will leave a lot of room for the possibilities.
Most Recent Comment(s):