Exploring East Side And Waikiki

By
.(JavaScript must be enabled to view this email address)
Wednesday - April 27, 2005
|

Del.icio.us
This is my third and final week "on the road" and we're exploring East Oahu, Waikiki and good old townie territory.
We begin this week's tour at Sea Life Park. Before today, the last time I got to see the big show with pirates and princesses riding dolphins was at my birthday party when I was a toothless secondgrader.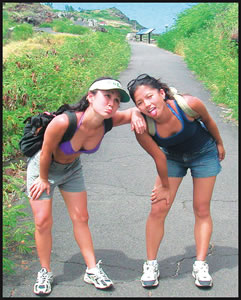 Seilee Nakamura and Stacy Arakaki hike
the Makapu'u Lighthouse trail
The pirates and princesses are still there, and the park, which is celebrating its 40th anniversary this year, is a great place to spend a day with the kids or even without them.
Besides the newest addition of the baby wholphin that made national news, there are three main shows featuring creatures of the sea and their antics. Included in the star line-up are penguins, sea lions, dolphins and whales.
In the 300,000-gallon Hawaiian reef aquarium, you can watch the "stingray ballet" from the outside or become the spectacle yourself in the underwater safari Sea Trek, where you mingle firsthand with fish, turtles and sharks and pet the soft underbelly of a giant stingray.
You don't need to be a SCUBA diver for this experience because you'll be fitted with a unique diving system — a heavy helmet that makes you look a bit like a Teletubby — so that you can walk with ease on the tank's bottom while keeping your face dry.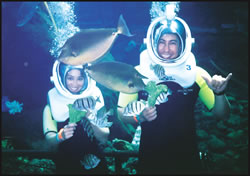 The author and Sebastian feed fish and pet
stingrays on Sea Life Park's Sea Trek adventure.
Other Sea Life Park unique experiences include a behind-thescenes tour of the facilities, the Hawaiian ray encounter or swimming with the dolphins. Admission to the park for kama'aina is $12.48 for adults; $6.24 for keiki (but I'd recommend springing for an annual pass at only $15). The interactive programs are extra, but kama'aina prices include admission. For example, the Sea Trek is $61.48 and the Dolphin Discovery Swim is $71.73.
• Besides all the beaches prime for surfing and body boarding in East Oahu like Sandy Beach and Makapu'u, don't forget the land sights like the Blowhole and a the scenic hike up to the Makapu'u Lighthouse. The hike is moderate and once at the top, if you dare, you can hike down the rocks into the tide pools at the bottom.
• While I'm at it, other hikes worth the trip on this leg of the journey include Diamond Head, Tantalus, the Hawaii Loa Ridge trail, Manoa Falls and Kapena Falls in Nu'uanu.
Kapena Falls is a 15- to 20-foothigh waterfall that plunges into a big pool. If you saw the movie Rundown with The Rock, you'll recognize this locale as where the jeep went flying off the cliff.
• Back to East Oahu, we can't forget to stop at Hanauma Bay Nature Preserve. There's no admission fee for Hawaii residents if you bring your ID, but you still pay $1 for parking. For those who remember the over-crowded conditions of the preserve in the '80s, know that attendance has now been curbed to about one-third of that. On the second and fourth Saturday of the month, the bay stays open until 10 p.m., offering opportunities for picnicking, star-gazing and night snorkeling and diving.
• Heading back through Hawaii Kai to Waikiki, there's still plenty of beach to explore, including Portlock's spitting cave. The Hawaii Kai area is also a good spot for water skiers or jet skiing. For jet skiing, call Sea Breeze at Maunalua Bay (396-0100). It's $49 for 20 minutes on a circular track.
Many kama'aina prefer to stay out of the busy, tourist-filled Waikiki area — parking is expensive and the one way streets get clogged easily, but I still think it's worth a trip.
• Right off the beach at the Sheraton Moana Surfrider Hotel are canoe rides. For $10 each rider, Aloha Beach Services (which has been offering the rides for almost 50 years) will take you out to catch two to three waves. A minimum of four people and a maximum of eight can go out at once and they go out every day, weather permitting. (Call 922- 3111.)
• Or you could hop aboard the Outrigger Catamaran, a 45-foot sailing cat that slides right onto the beach in front of the Outrigger Reef Hotel and offers snorkeling trips for $42, daytime sailing trips for $20, and sunset sails for $20 (this one includes an open bar!) Boat capacity is 49 people and reservations are necessary.
• If you're looking for something on dry land, try Sunset on the Beach. Held twice a month on Queen's Surf Beach, you get food, live entertainment and a spot on the sand for the movie feature.
• How about revisiting the Waikiki Aquarium or enjoying one of the Honolulu Zoo concerts on their stage lawn, featuring local legends playing everything from Hawaiian to jazz to Latin music? Concerts are every Wednesday, June through August. Admission is just $1.
• Or how about going to the bottom of the ocean on the Atlantis Submarine? You leave by boat from the pier at Hilton Hawaiian Village to get to the sub, docked offshore, and submerge to see sea life, sunken ships, a plane and more. Total underwater time is about 45 minutes. The kama'aina price is much lower than a malihini would pay, so take advantage at $25 for adults; $20 for keiki 12 and under. (Call 973-9811.)
• Head towards downtown and visit 'Iolani Palace. It's worth a stop, especially if you've never been there. (Call 522-0832.)
• Just two more places I'll suggest on this tour, and that's Bishop Museum and Chinatown. I used to volunteer at the museum in high school, and the exhibits are first-class all the way. Under construction right now is the new Science Exploration Center, set to open this fall.(Call 847-3511.)
As for Chinatown, well, that's just the real deal. Stroll the markets and pick up what pleases you — be it chicken feet, seafood or fresh produce.
Thus concludes our tour. So no matter what the adventure, make sure to get out of your office cubicle and go explore. If you're a procrastinator like me, the best way to make sure you don't keep saying, "next weekend," is to write a list of things you've always wanted to try and make a date to do at least one a month.
Most Recent Comment(s):