Getting Into Costume Ain't Easy

By
.(JavaScript must be enabled to view this email address)
Wednesday - October 29, 2008
|

Del.icio.us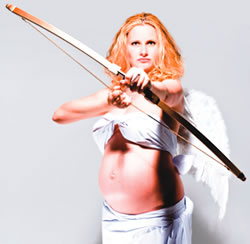 This Halloween, don't hide your pregnancy behind a costume, show it off like this cupid
It has been a few years since I dressed up for Halloween, but this year poses a greater-than-normal dilemma for me. My nephew is having a dress-up Halloween birthday party, but being pregnant has somewhat limited my costume options.
"You could be a pumpkin or an orange or a potato!" my friend offered.
"So anything round then," I said, frowning.
I'm round enough as it is, so posing as a circular or oblong fruit or vegetable didn't sound all that appealing. Plus, how do you sit down if you're dressed like a potato?
Searching for a good maternity costume online, however, proved equally frustrating. I could go as an angel or a devil or a witch. Not terribly original.
There also was a costume for a "bun in the oven" with a big plastic oven strapped to the front of the pregnant model and the word "bun" with an arrow pointed down at the oven. That one also came with a baker's hat. Again, it didn't look comfortable, and I wondered whether or not there was a hole in the back of the plastic oven that the woman actually wiggled her baby "bun" into.
The worst maternity costume I found, however, was a "name tag costume" where the woman was dressed in black except for a giant fake nametag that resembled a sandwich board and was stretched across the upper half of her body. The tag read, "Hello I'm ... Knocked Up."
I wanted something funny, something original. But everything I saw was either boring, ridiculously cliché or hid the baby bump completely by covering it with some giant plastic contraption. When you're pregnant, it's hard enough to move around or sit down without an oven or a enormous nametag strapped to the front of you.
Plus, I wanted to highlight my beautiful pregnant belly in a unique way that I could do only when pregnant! I didn't want to hide my baby bump under a clown costume or giant felt ketchup suit.
One site I visited suggested painting my baby bump with nontoxic paint in a number of interesting ways: a fish bowl, a crystal ball, a watermelon (again with the oblong fruit!)
It seems like the best thing for pregnant women to have at Halloween is a sense of humor. Here are a few more ideas from Thriftyfun.com:
* Dressing up as the Pillsbury Doughboy, complete with chef's hat, white outfit and flour on your face.
* Going as a planet with rings like Saturn or orbiting Styrofoam balls for a headpiece.
* Imitating your favorite insect - from a ladybug (black dots on a red outfit) to a butterfly sprouting wings
* Making the most of your "baby under construction" look with a hard hat, "tool kit" of bottle, diapers and toys and even a "Baby on Board" decal.
* Posing as "Mother Nature" or "Mother Earth" with leaves and assorted foliage.
Other options might include the Old English look when high-waisted styles were in fashion or making the most of hats and props - from feather boas to capes and masks to get you into the Halloween spirit.
My friends who are mommies say that even after baby arrives, finding a good Halloween costume can be a challenge. Perusing the Halloween Web sites shows that a majority of adult costumes are suited more for the younger (skinnier) party set who are willing to show a boatload of flesh than a mom who might have to spend her night running after her kids and bending down to pick up candy from the floor.
But whatever the challenges, this is a time for expectant moms to just have fun and maybe get in touch with their own inner child.
Most Recent Comment(s):