Hit The Road For North Shore Fun

By
.(JavaScript must be enabled to view this email address)
Wednesday - April 20, 2005
|

Del.icio.us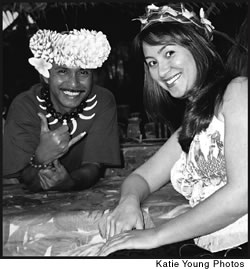 Keoki Anguay and the author at the Paradise Cove Lau
Let's pick up where we left off, on the North Shore of Oahu. After leaving the Turtle Bay Resort, Sebastian and I headed past Velsey Land, which is now obstructed by the construction of the Sunset Beach Colony homes and a big rock wall.
• But further down the road … North Shore beaches are worth the trip with plenty of wide open ocean for surfing or other water sports. Famous for its big waves in the winter months, the North Shore in the summer typically offers placid seas perfect for swimming.
On this trip we passed the beautiful Sunset Beach, 'Ehukai Beach Park and the Pipeline break. In the winter, the high surf crashes high on the sand, leaving a small lake in the middle of the beach at 'Ehukai. The day we went, it was shaped somewhat like a fish, and drew a crowd of onlookers. Though I didn't venture in, tour guide Sebastian claimed the waters of this phenomenon can run waist deep.
• Shark's Cove is one of the best snorkeling spots on the island. Clear water, lots of fish and even a few turtles. The neighboring tidepools are great for hunting for small sea creatures with the kids.
• Just around the corner, who can forget the world famous Waimea Bay? You have to make sure you jump off the big rock at least once in your life, or, if you prefer surfing, take advantage of the standing wave that's formed when the river gets full and local surfers dig out the mouth to let it flow into the ocean. You have to be there at the right time.
• For adventurers, rent a jet ski from Watercraft Connection in Hale'iwa. For $35 per 30 minutes or $60 an hour, you can poke around on a smaller jet ski. Take two people on a larger one for $55 for 30 minutes; $100 for an hour. You can ride them in the open ocean so it's lots of fun. (Call 637- 8006.)
• Surf lessons aren't just in Waikiki. On the North Shore, try Surf and Sea, who gives a twoto three-hour lesson out of Hale'iwa for $75. (Call 637-9887.) Sunset Suzy Surf School charges kama'aina $50 for a two-hour group lesson out of Hale'iwa Ali'i Beach Park or Puena Point. (Visit sunsetsuzy.com or call 781-2692.)
• If swimming with dolphins is too tame for you, how about swimming with sharks? North Shore Shark Adventures offers kama'aina rates: $85 to get in the metal cage underwater while sharks circle around you; $50 if you get scared and prefer to stick with the boat ride only. MidWeek's own editor, Don Chapman, braved this encounter and lived to recommend it. "Adrenalicious," he calls it. (Call 228- 5900.)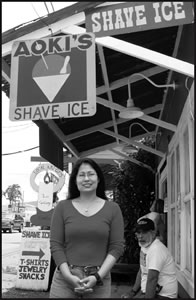 Cathy Aoki of Aoki's Shave Ice in Haleiwa
• After a day at the beach, who can leave the North Shore without a burger from Kua'aina Sandwich Shop or a cool cone of shave ice from Aoki's Shave Ice. Sebastian says it's the choice syrup that makes Aoki's ice better than the rest. In business 24 years, Cathy Aoki has been running the establishment since 1997 after taking over from her father and grandma, who started the store. The sign says they're on "Hawaiian Time" so they're open every day (almost), by noon (usually) and closed by 6:30 p.m. (most of the time).
• See the North Shore from 14,000 feet in the air. There are a couple skydiving tours out of Dillingham Airport, if you dare. Skydive Hawaii charges kama'aina $175 for one person or $300 for two. (Call 637-9700.) Pacific Skydiving Center charges $145 per person. (Call 637-7472.)
• More beach, if you're willing to drive west on Farrington Highway is Mokule'ia Beach Park —typically not as crowded as popular North Shore beaches.
• While the Dole Plantation is a bit of a tourist trap, I can't help but stop every time I pass it and treat myself to a Dole whip — pineapple flavor in a waffle cone. For $4, you can attempt to find your way through their 7-foot-tall hedge maze that spans 100,000 square feet. The record time of making it through the maze is six minutes, but it can take you up to an hour. (Call 621-8408.)
• Many of us have been there only on school field trips, but if you haven't been or can't remember your visit, a trip to Pearl Harbor and the USS Arizona Memorial is a must. The memorial is still the single most popular visitor attraction on Oahu. It's a somber experience. (Call 422- 2771.)
Also docked is the USS Missouri Battleship "Mighty Mo," the last battleship ever built, and don't forget the USS Bowfin Submarine. All are available for touring. (Call 877-644-4896, and 836-0317.)
• In Kapolei, get wet at Hawaiian Waters Adventure Park. You can easily spend half a day here getting hammered in the wave pool or screaming your way down a water slide. Kama'aina rates are $31.99; $21.99 for youths. (Call 674-9283.)
• The Ko Olina resort area is a beautiful stop. Four man-made lagoons offer protected swimming and good snorkeling.
Also in the area is the Paradise Cove Luau. When was the last time you threw an ulumaika? In addition to the show and luau food, the Cove offers traditional Hawaiian games and crafts if you arrive early. Take a short canoe paddle or have Keoki Anguay show you how to make your own lei po'o. Who says it isn't fun to "play tourist?" Kama'aina rates for the basic buffet package are $41 for adults; $35 for youths; $32 for keiki.
• We're getting to the end of the road on this leg of the journey. Perhaps one of the best beaches in the Wai'anae area is Makua Beach. A friend woke me up in the wee hours one morn and took me kayaking out at that beach. It's a frequent stop for pods of dolphins. If you're lucky, they might stick around until mid-morning, frolicking close to shore.
• Wai'anae is also a good spot to SCUBA dive. One of the more interesting spots is the Mahi shipwreck. See what a ship looks like after a quarter century underwater. Check Ocean Concepts for SCUBA tours. (Call 677-7975.)
• Once your car can't go any more, you're at Kaena Point. Get out, and you can hike to the westernmost tip of the island where there are ample opportunities for a great view. Next week:We'll finish our tour with East Oahu,Waikiki and town.
Most Recent Comment(s):