Jack-o-Lanterns And Trick Or Treat

By
.(JavaScript must be enabled to view this email address)
Wednesday - October 24, 2007
|

Del.icio.us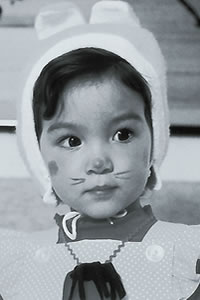 The columnist as a tot in a Halloween bunny suit
Halloween is just a week away. Do you know what you're going to be this year?
For me, Halloween has lost some of its luster over the years. Dressing up like a bunny or princess was so much fun when I was a kid. The joy of getting dolled up at that age was matched only by the thrill of trolling the neighborhood for candy to fill my pumpkin-shaped basket to the brim.
Somewhere around college I'd say the thrill of dressing up was much less about trick-or-treating and more about just getting to be something different from my normal, everyday self for a few hours.
Cute bunny costumes gave way to a devilish Poison Ivy one year with red spray-painted hair that came off on all my clothes. And one Halloween in Vegas I dressed up like Little Bo Peep. It was a little crazy, and by the end of the night my sheep-herding staff was mangled and the white stuffed sheep purse I crafted was black as the night. Never again.
It has been a few years since I've put on a costume, but now that I have nephews who are excitedly looking forward to the big day, the nostalgia of what Halloween used to mean to me comes rushing back.
I remember planning my costume for weeks, waiting excitedly to see the awed expressions of our neighbors as they opened the door to fill my bag with candy. In elementary school, a classmate of mine had Halloween parties every year with apple bobbing, scary movies, pumpkin-carving and plenty of spooky games to participate in.
The history of Halloween, like any other festival's history, is inspired through traditions that have transpired from one generation to another.
According to one website, Halloween, one of the world's oldest holidays, is still celebrated today in several countries around the globe. The word itself, "Halloween," actually has its origins in the Catholic Church. It comes from a contracted corruption of All Hallows Eve. Nov. 1, All Hollows Day (or All Saints Day), is a Catholic day of observance in honor of saints.
But in 5th century B.C. in Celtic Ireland, summer officially ended on Oct. 31. The holiday was called Samhain (pronounced sow-in), which means "end of summer," the Celtic new year.
The custom of trick or treating probably has several origins. During Samhain, the Druids believed that the dead would play tricks on mankind and cause panic and destruction. They had to be appeased, so country folk would give the Druids food as they visited their homes.
Some of Halloween's most memorable traditions have interesting roots as well, such as the jack-o-lantern and Halloween costumes.
According to the website www.halloweenishere.com, the jack-o-lantern first originated because Irish children used to carve out potatoes or turnips and light them for their Halloween gatherings. They commemorated Jack, a shifty Irish villain so wicked that neither God nor the Devil wanted him. Rejected by both the sacred and profane, he wandered the world endlessly looking for a place to rest, his only warmth a glittering candle in a rotten turnip.
The Irish Potato Famine (1845-50) prompted more than 700,000 people to immigrate to the Americas. These immigrants brought with them their traditions of Halloween and jack-o-lanterns, but turnips were not as readily available as back home. They found the American pumpkin to be a more than adequate replacement.
Costumes came about from earliest times because people believed that demons who had brought misfortune upon them would become frightened off by hideous masks. Even after the festival of Samhain had merged with Halloween, Europeans felt uneasy at this time of the year. Food was stored in preparation for the winter and the house was snug and warm. The cold, envious ghosts were outside, and people who went out after dark often wore masks to keep from being recognized.
I have to say that I miss the Halloween of my youth. And while many of the traditions from my childhood are still practiced today, Halloween has taken on a different face for me in some respects. Or maybe it's just that as we get older, it's difficult to enjoy old traditions in the same way we did as an innocent, wide-eyed child. (Chocolate is still very important, just maybe not in the same way as when I was 6.)
Last year, my nephews arrived home with some interesting prizes in their candy sacks - condensed soup, Vienna sausage, packaged dried saimin and an apple - making me wonder if adults need a little reminder of just what Halloween means to a child.
Still that doesn't dampen my nephews' hopes for a fruitful Halloween harvest this year. It's fun to see how excited they are to get their costumes together. Walking the neighborhood next week we'll have a baby Frankenstein, Jiro from Kikaida, a Power Ranger and a ninja - all frightening visions sure to scare the candy right out of the neighbors and keep the naughty spirits away.
Most Recent Comment(s):