Planes, Frames And Theme Songs

By
.(JavaScript must be enabled to view this email address)
Wednesday - June 30, 2005
|

Del.icio.us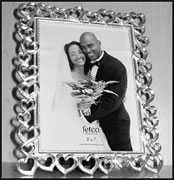 Photos make a place feel more
homey — if they're filled with
pictures of people you know!
I recently flew to the Mainland to visit my friend Nina who moved to San Francisco three months ago. Together with our other gal pal Charlene, who's going to graduate school in San Diego, we spent Memorial Day weekend exploring the Bay Area. This month's hodgepodge is dedicated to my girls.
A famous plane companion.
I really don't like plane rides. Never have. Mostly because I enjoy having room and, in a plane, you might as well be sitting on the lap of the person next to you for all the personal space you get. But the plane flight is a necessary means for me to get to where I want to go, unless I'd like to spend a week as freight on a boat to the Mainland.
This flight didn't start off well. A little boy in the seat behind me kept whapping me on the head with his pillow, and then his mother informed me that I couldn't put my seat back because it "hurt her knees." Then the man at the end of my row spilled his coffee on me after he asked me to hold it while he got situated.
So I was a little leery when the young guy next to me, who had previously been battling me for the armrest, started up a conversation.
It turns out it was John Ritter. No, not the ghost of the famous actor, but a college student from Kentucky who had dreams of becoming both a minister and a musician (and just so happens, had the same name).
He asked that I call him Brooks, his middle name, because all his friends do. But the story I told my friends was John Ritter and I talked the rest of the flight. I let him read my US magazine in lieu of The Sky Mall, and he promised to write a song about the nice journalist he met on the plane.
The pictures on the wall.
When you've just moved to a new place, it can take a while before you feel like you've got everything just where you want it. Knowing that house guests were on their way, Nina madly worked to make her new apartment a hospitable environment for visitors. With all the furniture in place, pretty towels hanging on the bathroom racks and food in the refrigerator, things were set — until Nina sat down on her living room couch and noticed her bare, white walls.
With guest No. 1 (me) arriving in minutes, she didn't have time for a complete wall-scaping, so she hammered a few nails and stuck some picture frames up on the wall with the intention of filling them with photos of friends and family soon.
I arrived at Nina's new place and proceeded to oooh and ahhh over how nice it looked with all the furniture. I wandered about the apartment, stopping briefly to admire a framed mountainscape in the hallway. "That's pretty," I said. "Where did you take that picture?"
Nina just giggled. So I looked at the frame more closely.
"Is this the picture that came with the frame?!" I asked.
Sure enough, Nina was in such a frenzy to cover her walls that she put up the frames still featuring the model pictures they came with.
Around the corner in the living room were four frames of different sizes with the same Asian mother and daughter sharing a kiss, and in the bedroom was a pretty heart frame with an African-American couple on their wedding day.
I couldn't stop laughing. "This is the funniest thing I've ever seen!" I screeched.
But Nina's intentions were just — just to make her new house feel more like a home.
The importance of a theme song.
Every girl needs one. At least that's what TV character Ally McBeal was told by her therapist (played by Tracey Ullman). Ullman suggested something with "bounce" to play in her head. Maybe the "Pips."
Theme songs are pretty personal. The lyrics usually speak directly to your heart in some form, and depict, through melody, how you feel deep inside — whether you feel empowered or like you just want to curl up and cry.
I recall a time of female empowerment when all I wanted to listen to was Alanis Morissette music.
My own theme song has continually changed throughout different phases of my life, but whenever I hear one of those songs on the radio, a flood of memories comes rushing back.
The same is true of songs that remind us of specific experiences in our lives. The Jets' Make It Real reminds me of the sweet and innocent first crush I had in elementary school. And any Sarah McLachlan song makes me recall how I'd watch the snow fall on the tree outside my freshman dorm window in Washington and desperately miss home.
Kelly Clarkson's Breakaway now reminds me of my Memorial Day trip to San Francisco. We did a lot of driving that weekend — from the little suburb Nina lives in to San Francisco's North Beach area to Napa Valley wineries to the Winchester Mystery House in San Jose.
The sun was shining, we had our sunglasses on, the windows rolled down and our hair blowing in the breeze.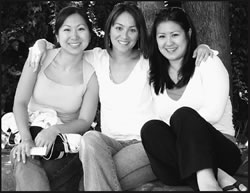 Charlene, the author and Nina "breakaway"
for a girls' weekend
Of course, we needed some snappy music to listen to on our adventures, but because Nina had just moved, her CD collection was limited to the complete works of John Mayer and Kelly Clarkson. We must have heard Clarkson's soulful lyrics, "Grew up in a small town, and when the snow would fall down, I'd just stare out my window ..." at least a dozen times.
At first we'd groan, but slowly, Breakaway became our theme song for the trip. Every time the track would play, the three of us would sing along loudly with the chorus, "I'll spread my wings and I'll learn how to fly! I'll do what it takes, till I touch the sky! And I'll make a wish, take a chance, make a change, and break away!"
Though I don't know if Nina would agree, the song made me think of the big risk she had taken to pick up and move her life from Hawaii to the big city in search of something new.
Now that I'm back home, every time I hear Breakaway I sing it out loud and smile, remembering the great time I had with my girls.
A week later, Nina's friend Kyle, after a two-hour drive listening to Miss Clarkson, needed to break away himself. He went to his car and grabbed a bunch of CDs — his own theme songs — none of which included any words about taking a risk or spreading your wings.
.(JavaScript must be enabled to view this email address)
Most Recent Comment(s):
Commenting is not available in this weblog entry.