Siblings: They Can Be Overrated

By
.(JavaScript must be enabled to view this email address)
Wednesday - April 02, 2008
|

Del.icio.us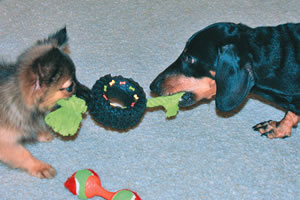 Candy and Pono in a tug of war
When I was little, I desperately wanted a sibling. I remember begging my parents to "Puhhleeease buy me a little brother or sister," not knowing, of course, exactly where babies came from.
Alas, no sibling was ever produced.
Being an only child was especially lonely. My friend Sarah, also an only child, can attest to the "only child syndrome," as her mother used to pretend to take a nap just to get a moment's rest from playing with her daughter.
Sarah used to sit on the floor, playing with her toys - all alone - waiting for any sign of movement from her mother to indicate another play session might be coming her way.
Of course, my friends who did grow up with brothers and sisters recall fighting over everything from toys to bathroom time to who got to ride shotgun in the car.
"You're lucky," some would tell me. "I fight with my sister all the time. Be glad you don't have to share your clothes or your toys with anyone else. You get all the attention."
Well, I thought, I'd trade it all for my very own sister or brother.
So when I purchased my wonderful wiener dog, Mr. Pono, I did so with the intention that I would not make him an "only child." I would, in fact, "buy" him another brother or sister.
But Mr. P turned out to be much more work than I bargained for and demanded all of my attention (and both arms to tote around his very long body.)
I don't know if he ever felt lonely, but I used to wish I could get him another wiener dog friend to play with, especially when I'd go to my best friend's house and watch her two adorable Chihuahuas chase each other around the room.
Finally, I got my wish ... sort of. My father has acquired a very fluffy new addition to the house: a Pomeranian/papillon mix from Petland's weekend "puppy swap meet."
At 3 months old, the new dog, Candy, is a small but energetic canine with razor-sharp baby teeth.
Excited for Pono to meet his new "baby sister," I brought him over to my dad's for their first meeting. Well, it didn't go too smoothly.
Pono is twice the size of Candy and yet Candy dominated the initial meeting. She charged Pono with full force, head-butting his side and throwing Pono into a panic.
Candy wanted to play. Pono wanted to hide. She ran after him, chasing and biting his tail, which looked very different from hers. Candy batted at Pono's nose with her paw and started trying to take his toys away from him.
The two finally ended up in a tug-of-war over a rubber tire with a green rope hanging out either side. I think Candy was the one to give up first, but only because she got bored with this needless power struggle and opted for another shinier toy.
It was a rough day for Mr. P. Exhausted and confused, I can only guess that he was bewildered as to how and why this new ball of fur was there in the house that used to be his, getting attention from his people and having her way with his toys.
The grass is always greener when it comes to a lot of things in life, including having siblings, I guess. If you're lucky enough to have a relationship with your brothers and sisters that is close, then this might not apply to you.
But if you fight with your siblings, you might sometimes wish you were an only child. And for only children, we often wish that we had brothers and sisters to hang out with who share the same history.
Maybe Candy will grow on Mr. P once she stops biting his tail for fun. But until that happens, I'll be managing the tug-of-war whenever I go to my dad's - making sure that everyone has a fair turn and no one feels neglected.
Most Recent Comment(s):