The Importance Of Saying Goodbye

By
.(JavaScript must be enabled to view this email address)
Wednesday - November 05, 2008
|

Del.icio.us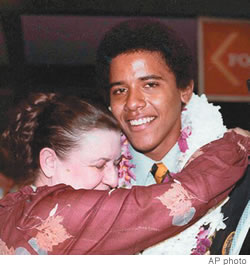 A young Barack Obama with 'Toot' at his graduation from Punahou
When my 94-year-old grandmother passed away five years ago this week, she hung on until I was able to come home to say goodbye.
I had left on a one-week trip to the Mainland and my father called me during my vacation to say that Grandma might not make it until I got back. I was even delayed an extra day, but as soon as I came home we went straight to the nursing home at 9 at night.
My grandmother could no longer speak and was, for the most part, unresponsive to my voice and my touch. But I got to hold her hand and say goodbye.
She passed away just a few hours after my father and I left her bedside.
"She was waiting for you to come," the people at the nursing home said. "We told her you were coming home so she shouldn't let go just yet."
Many of my friends have had similar experiences where a sick loved one has held on to life long enough to say goodbye to those closest to them. To me, it's a tribute to the strength of the heart and the importance of our connections to one another.
Democratic presidential candidate Barack Obama knew the importance of taking time for family in that regard, flying home to Hawaii two weeks before Election Day to visit his ailing grandmother, Madelyn Dunham.
According to an Oct. 24 Associated Press article, Obama told ABC's Good Morning America during an interview that he was concerned his grandmother might not make it to election day.
He said, "We're all praying and we hope she does, but one of the things I want to make sure of is I had a chance to sit down with her and to talk to her. She's still alert and she has still got all her faculties. And I want to make sure I don't miss that opportunity."
Obama missed a chance to visit his mother just before she died of ovarian cancer in 1995, and he said he didn't want to repeat that mistake.
It's so easy to get caught up in our busy lives. But the reality is we never really know how much time we have with someone we love.
You can say, "Tomorrow I will."
Or, "Maybe next week because I just have something I have to get done right now." But tomorrow might be too late.
For that matter, I'm starting to think I should take more care in how I say goodbye to every person I love. Goodbyes can easily become careless as you rush out the door in the morning or get off the phone with a friend.
Would I be OK if I sent my friend on his or her way with a careless good-bye and they never really knew how much they meant to me? Or what about family members we see every day but may take for granted?
I think we should never underestimate the impact of a last goodbye for those we love. Those in the final stages of life can leave this earth knowing just how loved they truly are, and those who are left behind can feel some peace knowing they expressed how important that person was to them.
At the end of a life, just one final hug, one touch or a few loving sentiments can bring a sense of closure and comfort to a heartbreaking situation.
I thank my Grandma for staying with us long enough for me to see her one more time and say a final goodbye. I think if I had missed that chance by just a matter of days I would have felt an empty place in my heart for a long, long time.
I can still visit her grave and continue a conversation, but nothing will take the place of having those final moments by her bedside.
Most Recent Comment(s):