The Sad, Short Life Of Little Jimbo

By
.(JavaScript must be enabled to view this email address)
Wednesday - November 08, 2006
|

Del.icio.us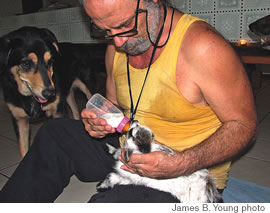 Fred Coury feeds Jimbo as a friend looks on
There is nothing more incredible than watching the birth of a baby. Being present as a tiny life fights its way into the world can soften the heart of even the most macho male or give you a new perspective on life and love.
And when your friend of 40 years decides to name the newborn after you, well, I can imagine you might feel quite honored - even if your namesake is a goat.
Such is the tale of a little pygmy goat named "Jimbo," born on a hot day in July on a five-acre ranch in Florida and named after my father Jim.
My dad was visiting his college buddy, Fred, who lives on the ranch and cares for, among other animals, more than a dozen pygmy goats.
The pictures my father brought home of this miniature goat would make anyone fall in love. Sadly, however, Jimbo did not have a great start at life.
His mother rejected him shortly after his birth. She refused to let Jimbo feed and whenever he'd try to get close to her, the mother goat would charge at Jimbo, picking him up with her head and flipping him over.
My father helped Fred nurse the baby goat and by the time he returned home from his trip, was extremely attached to Jimbo's almost human-like personality.
Fred wrote e-mails to my father, updating him on Jimbo's progress, but the notes started to take a troubling turn last month. Fred said that Jimbo's predicament was that the other goats were being mean to him too.
"None of the reindeer will let him play in any reindeer games," Fred wrote. "They butt him quite hard in the ribs, actually knocking him on his back. Before, he would just get up, shake it off and go on. Now, the body shots seem to be getting to him."
After a while, Fred decided to isolate Jimbo from the other pygmy goats and began to hand-feed him.
Fred wondered what to do next. Should he get a flak jacket? Pay for goat self-defense lessons? He figured Jimbo was safe at least for now, unless he managed to get into his wife's flower garden.
"But he's lonely," Fred wrote. "Goats are such social creatures."
Fred still held out hope that with a little TLC, Jimbo would pull through. But a week ago, my father received this e-mail from Fred:
"Jimbo died early this morning. He was doing fine on Wednesday. I had put him on this side of the fence to allow him uncontested access to goat feed, which he ate, and to give him some respite from the other goats.
"But when I went out Thursday morning, he didn't have a lot of energy. That evening, when he didn't seem to be getting any better, I brought him onto the porch, right by the kitchen door. I gave him some electrolytes and milk.
"A little after midnight this morning, I went to feed him again. He looked pretty weak, so I picked him up and scratched his back (which he loved.) He held his head up really high, like it felt so-o-o good. Then, slowly, he began to lower his head until it rested on my arm ... and that was it."
Who knows, maybe Jimbo was sickly at birth and that's what led to his early demise. But I can't help but think maybe Jimbo died because he did not get the love he so deserved from his own family. He must have felt so rejected and alone.
Just as Jimbo craved touch and affection, we humans also need the same. I think it's important to never underestimate the power a kind word or an embrace can have - even in the most unseen ways.
Fred ended his note to my father by saying, "I think the best thing you can say about any person (or goat) is that my life was better for having known him. I think you and I, both, can say that for sure about Jimbo."
Most Recent Comment(s):