Vows, Love And A Kissing Game

By
.(JavaScript must be enabled to view this email address)
Wednesday - December 05, 2007
|

Del.icio.us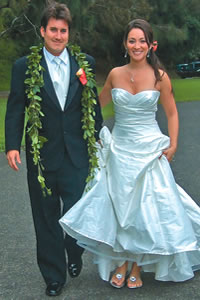 The groom and bride entering Koolau Golf Club
Hallelujah! The dress fit! The favors arrived in time! No one complained about their seat! And only one cell phone rang during the ceremony. All in all I'd say our wedding went off without a hitch.
Every bride will tell you that her wedding day flew by in what seemed like a matter of moments. The same was true for me. There was not enough time to talk to all those wonderful people in my life who had come from far and near to witness and celebrate our union.
If only there were a way to make the wedding last all day and all night so you could pay individual attention to all your loved ones! There were some people I didn't even have a chance to say hi to, and a friend of mine, who came all the way from New Jersey, I spoke to for less than five minutes.
I don't think, however, that I could have survived an all-day, all-night affair considering I came down with a horrible cold a week before the wedding, was coughing uncontrollably, popping throat lozenges like they were candy and sipping hot water, not champagne, during the reception.
From what I've heard from other married women, the stress of planning your big day often leads to horrendous colds either before or right after the wedding. (One reason to wait to go on your honeymoon until you've had a chance to recover from the nuptials.)
Several readers have written to ask how the wedding turned out after all my talk in the last few months about planning it, so here are a few highlights:
There were a couple of mishaps, but nothing worth crying over. The ceremony started a little late, but I made it down the aisle without shedding a tear. I think some friends were taking bets about whether my husband or I would start crying - I think most bets were on me.
I made it through a beautiful scripture reading from my friend Sherrie, a poem written for us by my mother and some touching, tearful words from my new mother-in-law without ruining my makeup. But then my husband got to recite his vows first. Is that the way it normally goes? I think it was unfair because it made me all emotional and as soon as I started my vows, I burst into tears.
It was over so quickly, but our officiant really made things special by involving our parents and our friends in the ritual.
A blur of picture-taking followed and I believe lunch started a little late, but I heard the food at Koolau Golf Club (where we had our ceremony and reception) was excellent. (I say I heard it was good because I couldn't taste much due to my cold).
And that darn cold, while not visible so much at first glance, certainly left me less energetic and sociable than normal. I got up from my seat at the reception only when I needed to do something.
But I did manage the first dance, traditional cake-cutting (with kissing wiener dogs as a cake topper that were actually salt and pepper shakers) and the thank yous - my kumu hula also taught me a beautiful dance about family that I performed as a gift to my husband.
My bridesmaids made me cry (again) with their heartfelt speeches, and our emcees carried the program off flawlessly. We had an awards giveaway for those guests who were quickest to return their RSVP card, who traveled the greatest distance to be there and who booked their flight to Hawaii first.
But my favorite part of the reception was a kissing game we played where every time the glasses clinked for my husband and me to kiss, we drew a name of a married couple in the room. That married couple had to come up in front of everyone and kiss. Then, my husband and I had to imitate that kiss. All I can say is there was a lot of love going on in that room from couples young and old who were showing us the right way to do it!
From what I hear, the "favor table" was a big hit (guests filled organza bags with an assortment of treats including Hershey's Kisses, Red Vines, Hot Tamales and butterscotch buttons). And yes, my dress, by some miracle, ended up fitting without any major patchwork.
After the fact, however, I don't even remember those things from the wedding day. I remember feeling beautiful (even though I was sick). I remember feeling so blessed to have all the people I love there with us. And I remember feeling giddy to be starting this new chapter in my life. It was more than I ever could have hoped for.
Most Recent Comment(s):