Benefits Of Strong Visitor Industry

By
.(JavaScript must be enabled to view this email address)
December 07, 2011
|
Hawaiian Airlines Discount
Share
There's no denying that Hawaii's visitor industry makes invaluable contributions to the island economy in terms of employment, salaries, tax revenues and other ways. What's often overlooked is the support the visitor industry provides to the community.
This support takes many forms: employee involvement in community service, cooperative educational programs between hotels and schools, and projects involving Hawaii Lodging & Tourism Association members and charities, to name a few.
But the largest and most extensive support comes through the annual Visitor Industry Charity Walk, held each May across the state.
This past May, nearly 11,000 participants on five islands "put their best slippahs forward" for the Charity Walk, which marked its 33rd year. The walks were held on three consecutive Saturdays beginning May 7, with Molokai first, Hawaii, Kauai and Maui second, and Oahu last.
Oahu raised $382,000 this year. The other totals for 2011 were Big Island, $161,000; Kauai, $137,000; Maui, $470,100, and Molokai, $5,000. The funds support local organizations engaged in charitable work, meaning the funds raised on Oahu stay here. More than $23 million has been raised statewide during the lifetime of the Charity Walk.
This year's overall walk was chaired by Kelvin Bloom, president of Aston Hotels & Resorts, who says, "It's an unprecedented outpouring of kindness and kokua that exemplifies our aloha spirit. A big mahalo to all of the thousands of folks who participated and gave so generously, especially considering the tough economic times."
Dennis Brown, president and CEO of Big Brothers Big Sisters of Honolulu, says, "The Charity Walk has been a consistently significant contributor to Big Brothers Big Sisters of Honolulu's after-school mentoring programs for children and youths. We are grateful for the support of the visitor industry community which helps us make a meaningful impact on children."
Donna D. Fouts, executive director of the United Cerebral Palsy Association of Hawaii, says, "In these economically challenging times ... it is so wonderful to have a Hawaii event like the Visitor Industry Charity Walk that is focused on giving back to our local community. The funds ... have gone a long way in helping United Cerebral Palsy provide quality of life for those with disabilities. ... UCPA has additionally enjoyed walking as a group each year in this fun and festive event."
Organizations receiving funding this year include Abilities Unlimited;
Alcoholic Rehab Services of Hawaii (Hina Mauka); Aloha Council of Boy Scouts; Aloha Independent Living Hawaii; Alzheimer's Association; American Diabetes Association; Animal Care Foundation; Armed Services YMCA; Assistance League of Hawaii; Assistive Technology Resource Centers of Hawaii; Bernice Pauahi Bishop Museum; Big Brothers Big Sisters of Honolulu; Community Assistance Center; Convoy of Hope; Damien Memorial School; Friends of Missing Child Center Hawaii; Girl Scouts of America; Hawaii Agricultural Foundation; Hawaii Autism Foundation; Hawaii Fi-Do Service Dogs; Hawaii Friends of Justice and Civic Education; Hawaii Meals on Wheels; Tax Foundation of Hawaii; Honolulu Police Department; Hospice Hawaii; JapanAmerica Society of Hawaii; Jefferson Elementary School; Kalihi-Palama Health Center; Lanakila Pacific; Library for the Blind & Physically Handicapped; and Love A Cat Charity.
Also: Mental Health Kokua; Moanalua Gardens Foundation;
Moiliili Community Center; National Kidney Foundation of Hawaii; Outrigger Duke Kahanamoku Foundation;
Pacific Historic Parks; Pacific Region Baseball; Partners In Development Foundation; People Attentive to Children;
Project DANA; Rainbow Aquatics Swim Team; River of Life Mission; Ronald McDonald House Charities of Hawaii; Special Olympics Hawaii; St. Francis Healthcare Foundation of Hawaii; Surfrider Spirit Sessions; Talk About Curing Autism Hawaii; Children's Alliance of Hawaii; Hawaii Law Enforcement Memorial Foundation; Salvation Army Hawaiian and Pacific Division; TJ Mahoney and Associates; Ukulele Festival Hawaii; United Cerebral Palsy Association of Hawaii; United Service Organizations; USS Missouri Memorial Association;
Visitor Aloha Society of Hawaii; Waikiki Community Center; Waikiki-Kapahulu Library; Women In Need; YMCA of Honolulu; and YWCA of Oahu.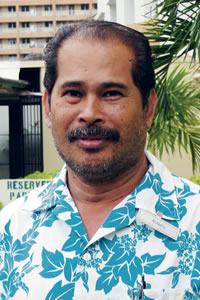 The 2012 Charity Walk will be held Saturday, May 12, on Hawaii island, Kauai and Maui, and May 19 on Oahu. Chairman will be Gerard Gibson, area vice president/managing director of Hilton Hawaiian Village.
MUFI'S VISITOR HEROES
Asterio Cabulera
Position: Housekeeping Utility
Location: Pagoda Hotel and Restaurant
Asterio Cabulera doesn't do his job at Pagoda Hotel and Restaurant with flash or fanfare. Rather, this quiet and humble man does his work with consummate skill and dedication that makes the property shine and guests happy.
As a housekeeping utility employee, Asterio's day begins at 4 each morning. He first cleans the public areas and then helps the graveyard crew with their work. He follows that with whatever the cleaning schedule requires, plus handles everything the property's daily operations require him to do. In his 30 years with Pagoda, Asterio has received nothing but compliments from guests and coworkers alike, attesting to his professionalism and sterling work attitude.
His supervisor, executive housekeeper Yodie Mizukami, says Asterio Cabulera and others like him "make a huge difference when it comes to servicing a guest, creating memories for the traveler if only to extend a smile, or lending a helping hand to assist with the property's morale and being nice to his coworkers."
Most Recent Comment(s):