Christmas No 'Humbug' For Hotels

By
.(JavaScript must be enabled to view this email address)
December 21, 2011
|
Hawaiian Airlines Discount
Share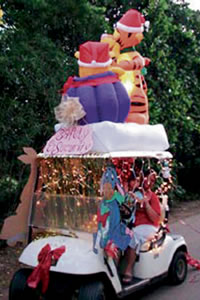 One of the decorated golf carts at Turtle Bay. Photo courtesy Turtle Bay Resort
Visitors love our islands during the winter, flocking to Hawaii to escape the frigid climates of their homes and to bask in the sun and warm aloha of our people.
While a Hawaii vacation alone would be a memorable Christmas gift for any traveler, our hotels do everything they can to make the occasion all the more special for anyone entering their doors.
Hotels across the state are decked out in their Christmas finest, and it would be worth a trip to see what a terrific job they do this time of year. In addition, most have Christmas-themed festivities for guests and residents alike.
On the North Shore, Turtle Bay Resort again organized its Lighted Cart Parade Dec. 11, which featured employee teams competing to decorate golf carts with a Christmas theme.
The post-parade festivities included an appearance by Santa Claus, and a Festival of Trees with the trees decorated by elementary school students.
Turtle Bay employees also reminded us of the meaning of Christmas by collecting items needed for shelter residents during the year and cosponsoring a special holiday meal that fed more than 1,000 less-fortunate people on the North Shore.
On Kauai, Mayor Bernard Carvalho Jr. led the opening of Waimea's first-ever tree-lighting ceremony.
This event, which will become an annual date on the community calendar, was sponsored by Aston Hotels and the West Kauai Business and Professional Association. Chairwoman Penny Young and the organizers were so thrilled by the response
that organizing committee members are already talking about caroling, photos with Santa, crafts displays and more for next year.
Dec. 17 brought the annual Waimea Christmas Parade, where Aston Hotels, Grove Farm, Kauai Coffee and the County of Kauai partnered to celebrate Christmas with floats, and candy and gifts to the thousands of people who came from across the Garden Island to enjoy the spirit of the occasion. The Waimea festivities included crafts, food booths and entertainment throughout the town during and after the parade.
On Maui, the Grand Wailea created a full slate of holiday activities, which included the "Shared Holiday Celebration" with plenty of food, music and prizes, and a portion of the proceeds benefiting next year's Visitor Industry Charity Walk.
The resort scheduled a holiday concert with the Maui Youth Philharmonic Orchestra, showcased a Gingerbread Village display produced by its culinary team, sponsored art exhibits, will hold a brunch on Christmas Day, and cap it with a Dec. 30 "Divas Holiday Night Out" for the ladies.
On Hawaii Island, Mauna Lani Bay Hotels and Bungalows filled its lobby with Christmas trees decorated by local nonprofit organizations. Nearly 40 groups, ranging from canoe clubs to elementary schools to social service agencies, are vying for cash prizes ($2,000 to the winner!), as judged by guests and residents who submit $1 ballots. Those donations are divided among the participating organizations, except for the top three winners who receive their cash prizes from Mauna Lani.
These Christmas celebrations, represented in many places and in many forms, are another expression of how the visitor industry is an important part of the holidays and a part of the community.
MUFI'S VISITOR HEROES
Marlene Morimoto
Position: Service Coordinator
Location: Pacific Beach Hotel
Service coordinator Marlene Morimoto has never missed a day of work during her more than 10 years with Pacific Beach Hotel. In fact, she even comes in to cover for co-workers when they're unable to work.
Marlene is the mainstay of the hotel's Aloha Center Café. Although the café is self-service, she never hesitates to bring a customer's order to his or her table. She remembers guests' names and pleases one and all with her demeanor and professionalism. Marlene also is noted for the respect she's earned from employees under her supervision and from management.
Charley Sayles, assistant restaurant operations manager, describes Marlene as an "irreplaceable employee who shows the real meaning of aloha."
Most Recent Comment(s):