Going Green Is Good Business

By
.(JavaScript must be enabled to view this email address)
January 04, 2012
|
Hawaiian Airlines Discount
Share
We all should recycle cans, bottles, newspapers and, after the holidays, our Christmas trees. As mayor, our city team worked diligently to keep the island green, from instituting islandwide curbside recycling to the naming of the manu-o-Ku as our official bird as part of 21st Century Ahupuaa initiative. I knew then that we'd have to pursue an ongoing effort to educate the public to reduce, reuse and recycle.
For the visitor industry, recycling and other "green" practices have become part of everyday operations. For our industry, going green is not only good for the environment, it's good for business. Most, if not all, hotel properties have adopted conservation and recycling practices, with large properties such as the Sheraton Waikiki and Hilton Hawaiian Village Beach Resort & Spa leading the way for many years.
Some of the more common practices are recycling paper, aluminum, glass and plastic containers, and cardboard. Waste cooking oil is collected and processed into biodiesel fuel, which is used in City and County of Honolulu buses and government vehicles, among others. Wet waste is collected by farmers and processed into pig feed. Green waste is used to make compost. Used furniture and dishware are sold or donated to local charities.
Sophisticated energy management systems control lighting, air-conditioning and other power use. Incandescent light bulbs have been replaced by energy-efficient LED or fluorescent lighting, saving millions of kilowatt-hours of electricity, considering how much lighting is found in your average hotel. Films are applied on windows and doors to cool rooms. Low-flow toilets, showers and faucets reduce water consumption. Some hotels provide fresh towels only upon a guest's request to trim laundry use.
Some hotels have taken additional steps. Grand Hyatt Kauai, for one, has installed 18,500 square feet of photovoltaic panels to produce electricity. It installed a heat-to-energy conversion system that uses heat from the airconditioner to heat water for rooms, the laundry and pool, saving more than 200,000 kilowatt-hours a year. Exhaust fans in kitchens and pumps for water features all are on timers, saving another 250,000 kilowatt-hours. About 60,000 square feet of grass-covered roofs reduce cooling needs.
Over at Marriott's Waiohai Beach Club in Poipu, this international corporation is replacing plastic key cards and pens with those made of recyclable material. Aerosols have been eliminated. Biodegradable cutlery and packaging is used at food outlets, and food left by owners is donated to the Kauai Food Bank.
On Oahu, the Aqua Bamboo and Spa, with about 90 rooms, pursues its own green practices. In addition to many of the recycling and conservation techniques practiced by the larger properties, the Aqua saves water by irrigating plants in the late afternoon/early evening period, adjusts timers on lights, saves energy by installing room occupancy sensors and has contracted its elevator maintenance to the original manufacturer to ensure optimal performance.
Kahala Hotel and Resort has in-house composting using worms, created an herb and vegetable garden for its restaurants, landscapes with drought-resistant plants, controls pests using biological methods instead of chemicals, uses environmentally friendly paints for the hotel exterior and guest room interiors, and uses deep-water wells to cool its chiller system. The Kahala also provides lockers and showers for employees who walk, jog or bicycle to work.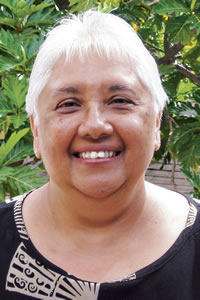 The innovative practices adopted by the visitor industry should serve as a model for other businesses and larger institutions across our state. The industry's leadership and record in this arena demonstrates that commitment and follow-through will lead to well-deserved success.
MUFI'S VISITOR HEROES
Lehualani Castro
Position: Executive Assistant
Location: Hilton Hawaiian Village Beach Resort & Spa
Lehua Castro's career with Hilton Hawaiian Village began a remarkable 37 years ago.
During this span, she's worn a number of hats: catering department secretary, secretary to the executive assistant, catering diary clerk, office manager, reservations manager, and executive assistant to the leasing director, the position she's held for the past 20-plus years. She's become a mentor and trainer, volunteering to help teach the Hilton service culture program and other courses to the hotel's 1,800 employees. She demonstrates special dedication to the 100 shop tenants at HHV, earning their praise for her problem-solving and property-management expertise.
Lehua Castro is active in charitable causes, giving a record 44 times to blood drives, and has led Hilton's participation in the Visitor Industry Charity Walk, Aloha United Way and Hawaii Foodbank campaigns.
Most Recent Comment(s):