Hawaii Hotels In Elite Company

By
.(JavaScript must be enabled to view this email address)
November 30, 2011
|
Hawaiian Airlines Discount
Share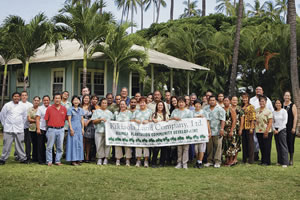 General manager Stephanie Iona (far right) and the Waimea Plantation staff. Photo from Mufi Hannemann
Two of Hawaii's many fine hotels Waimea Plantation Cottages and Grand Hyatt Kauai Resort and Spa have been honored by Fodor's, the prominent publisher of international travel and tourism information, in the firstever Fodor's 100 Hotel Awards.
The two hotels, both on Kaua'i, were among 100 properties in the entire world to be evaluated and selected by Fodor's editors and writers.
Waimea Plantation Cottages, headed by general manager Stephanie Iona (husband Charles is security chief, making it a family affair), is one of 13 properties named in the "local flavor" category. Fodor's stated that properties in this category "specialize in conveying authentic and locally relevant experiences around the globe. From horse ranches to cave hotels to mountainside chalets, these lodgings may introduce you to a new way of living, but in a manner that will make you feel completely at home, no matter where you are in the world."
Those unfamiliar with the charming Waimea Plantation Cottages need only picture a time in Hawaii's recent history when sugar plantation camps dotted the Islands. At Waimea, on Kauai's West side, guests stay in reconstructed plantation cottages originally built in the 1900s. Coconut trees and an isolated beach enhance the old-time ambience of this destination.
The 55 cottages have porches, plantation-era furnishings, modern kitchens and cable TV, while a restaurant, spa, pool, museum, business center and other amenities are on the grounds. Waimea Plantation Cottages are at 9400 Kaumualii Hwy. (waimeaplantation.com).
Grand Hyatt Kaua'i, meanwhile, was one of 16 hotels selected for recognition in the "trusted brand" category. According to Fodor's, "Some travelers crave the comforts that come from staying at a well-known hotel chain. The experiences are similar, no matter where your journeys take you, which can be a welcome reprieve in a far-flung land. But there are standouts even within the familiar brands. With perks like Michelin-starred restaurants, locally inspired spa treatments, and starchitect design, these 16 properties raise the bar on the cookie-cutter mold."
Under the direction of general manager Doug Sears, Grand Hyatt Kauai lives up to its name, with spectacular views, lush grounds, golf and tennis, spa, dining, every imaginable water activity, conference facilities and other features expected of a FourDiamond hotel (grandhyattkauai.com).
Fodor's recognition of these two Hawaii hotels was well-deserved, a reflection of innovative management and the professionalism and dedication of a top-notch staff, developed over many years of successful operation. Other properties in Hawaii have made, and will make, the must-visit lists of other publications and travel writers.
But, in a larger and more significant sense, it demonstrates how skillfully Hawaii's visitor industry competes against destinations elsewhere in the world. The 98 other properties on Fodor's list are in cities and nations all over the globe. More to the point, we just hosted the Asia Pacific Economic Cooperation summit, where international attention was focused on the work of President Obama and foreign leaders. We proved we were up to this enormous task.
The simple fact that Hawaii has received this recognition tells us that our visitor industry is not only strong, but smart and sophisticated and able to compete against the best of the best anywhere in the world.
MUFI'S VISITOR HEROES
Enrique Curameng
Position: Engineer/Maintenance Person
Location: Ala Moana Hotel
Island: Oahu
Engineer/maintenance person Enrique Curameng is described as a "tireless force" who "shows no sign of stopping," making him an invaluable member of the Ala Moana Hotel staff.
Enrique is first on the scene for any problem, tackling his daily responsibilities with energy and vigor that few can match. With 40 years of hotel experience, this skilled tradesman handles the electrical requirements of the hotel, including overseeing emergency power sources. During a recent renovation of rooms and public areas, he enabled Ala Moana Hotel to coordinate outages of major equipment systems without sacrificing the comfort of guests. Always bringing a warm smile to everything he does, Enrique is the consummate professional and a huge asset to the property.
Enrique Curameng devotes his free time to Little League baseball, even accompanying the Waipio team to the 2010 World Series, and is active in his church.
Most Recent Comment(s):