HLTA Membership Has Benefits

By
.(JavaScript must be enabled to view this email address)
December 28, 2011
|
Hawaiian Airlines Discount
Share
Hawaii Lodging & Tourism Association, formerly known as Hawaii Hotel & Lodging Association, may not come immediately to mind when you think about organizations of local industries or professions. But HLTA is one of the largest private business associations in the state, and certainly the largest in the visitor industry.
What began more than 60 years ago as a group of 16 hotels is today a statewide association of 156 lodging properties representing world-renowned companies and bed-andbreakfasts with nearly 49,000 rooms, and 400plus members from other enterprises.
While the lodging sector forms the core of HLTA, the organization today counts among its members a diverse array of companies, public and private organizations, and professionals and individuals with interests in the visitor industry and related businesses.
For members, the benefits of HLTA membership are many. HLTA serves as the voice of the lodging and tourism industry, representing the association before federal, state or county executive and legislative bodies and keeping members abreast of legislation and regulations affecting this sector.
HLTA is an affiliate of American Hotel & Lodging Association, the national federation of lodging associations representing more than 1.5 million rooms in the United States.
HLTA's education and training seminars enable managers and employees of member companies to gain knowledge on such topics as safety and security, labor relations, workers compensation, and repair and maintenance issues.
The association publishes a pictorial membership directory. It offers exclusive member discounts on lodging, airlines, business services and equipment, car rentals, shipping, prescription drugs and much more. There are discounts for booth space at the wellattended Hawaii Lodging, Hospitality & Foodservice Expo held annually at Blaisdell Center.
Of course, HLTA sponsors the Visitor Industry Charity Walk, which has become the state's largest single-day fundraiser and a source of much-needed money for local charities. There also are many opportunities for educational partnerships with schools throughout the Islands.
Members participate in general and chapter meetings, programs such as the Na Poe Paahana awards for outstanding employees and social mixers events that are a particularly wellreceived and important benefit of HLTA membership.
"Kaua'i Coffee Company is very proud to partner with the HLTA in promoting diversified tourism on Kaua'i and throughout the state," sales and marketing manager Marty Amaro says.
"As an allied member, we're able to utilize a tremendous network of resources as we market the Kaua'i Coffee Company brand, our Kaua'i Estate Visitor Center, agri-tourism, and ultimately the Garden Island itself. Working with the HLTA has proven to be a winning strategy and we're looking forward to building on that success in the years to come."
Jan Lee, owner of AAA Quality Services, says, "We've been in business in Hawaii since 1983. I was recently counting my blessings for continued business all these years, and I realized that many of my loyal customers I met during Hawaii Lodging & Tourism Association functions. As a 20-year member, we can surely say you've given us many opportunities to network, meet other professionals and have fun."
Donald Yannell, senior vice president and area manager of First Hawaiian Bank's Waikiki branch, offers another perspective:
"Being a member of the Hawaii Lodging & Tourism Association gives one a firsthand look at the visitor industry. We realize that the visitor industry is not only a Waikiki thing; it's state of Hawaii thing. We see local people work and succeed in the industry in all levels of employment.
"The benefit: HLTA allied members look differently at our visitors."
Sanj Sappal is area vice president-Hawaii/Guam for Securitas Security Services USA and one of the HLTA's staunchest supporters.
"The Hawaii Lodging & Tourism Association has been the best conduit for relationship-building," he says. "I've been a member for close to 20 years, which pretty much expresses my overall satisfaction with HLTA. The contacts and relationships developed have been maintained and nurtured over these years, and have translated into business or at least a foot in the door ...
"Getting to know someone new is what it's all about and how relationships develop. This is one of the main reasons I've been a proud member for so many years."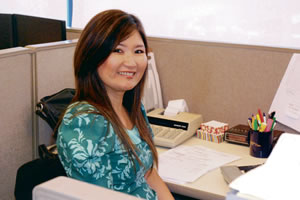 HLTA brings countless benefits to its members, and none more so than long-term relationships in an ever-changing industry. For a business providing a service or product to the visitor industry, or for anyone with a connection to travel and tourism, membership in Hawaii Lodging & Tourism Association is worth serious consideration.
For information, visit HLTA's website at hawaiihotels.org or contact membership director Karen Nakaoka at 923-0407 or .(JavaScript must be enabled to view this email address). .(JavaScript must be enabled to view this email address)
MUFI'S VISITORHEROES
Sheryl Tadaki
Position: Senior Reservations Agent
Location: Hyatt Regency Waikiki Beach Resort
A winning personality earned Sheryl Tadaki a job at Hyatt Regency Waikiki Beach Resort and Spa 30 years ago, and it's continued to mark her career to this day.
Sheryl's eagerness and determination found her first as an on-call floater for the personnel department and then at reservations, where she's made her mark, and a significant one at that. As a senior reservations agent, she was instrumental in the resort's successful adoption of a new reservations management system, taking on the complex system with characteristic enthusiasm. Sheryl then used this new system to improve her efficiency in handling bookings of group tours from Japan and to accommodating the dozens of airline flight crews who stay at the Hyatt. Her problem-solving skills and take-charge attitude have made her an invaluable employee and a respected professional by coworkers and clients both.
Despite the demands of her job, Sheryl always found time to support her son in his school activities.
Most Recent Comment(s):