A Bucket List That Stands The Test Of Time

By
.(JavaScript must be enabled to view this email address)
Wednesday - August 18, 2010
|
Share

Del.icio.us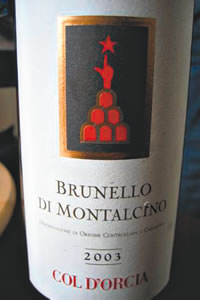 Exudes class and complexity
The Taj Mahal, Machu Picchu, Great Wall, Statue of Liberty, great pyramids of Egypt - these are all places to visit on my bucket list.
Everyone should have a bucket list. These are things that defy description and are true standards by which all other things are compared. They are experiences that can even make some feel more complete.
Wine is part of my bucket list. There are wines that I still only dream about. They evade me, at least for now.
The simple rarity of some wines can make them worthy of the bucket list. And because they are "endangered" species, they also are extremely valuable, i.e., expensive. They can certainly be cost prohibitive in many instances. Then again, you can't take your money with you. You can leave it behind for your loved ones and the not-so-loved ones (read government taxes). But then you missed that awesome experience that you could possibly have had.
What makes each one so special is that they cannot be duplicated. They are singular expressions of a place and time. In many cases, for me, they come from a time long gone.
Take, for instance, a bottle of 1945 Mouton Rothschild. By all accounts it is a magnificent wine. But taken in historical context, it was also the year of the victory of the allies and the end of World War II. The vineyards were in bad condition. Many men died in the war, so the wine was made mostly by women and without the aid of chemicals. All industrial compounds and factories were in service to the war. Yet in a time such as this the vines celebrated by giving some the best fruit to create one of the greatest wines Bordeaux has ever known.
And it has stood the test of time. Some may say it is immortal. Many of the wines on my bucket list have life spans perhaps longer than my own. Maybe that is what draws me to wines such as this: the thought that even after I am gone, the experience that I shared with that wine will live on. They allow me to touch the eternal. And the bottles of these wines that can avoid being consumed will live well beyond me. That sense of everlasting life is certainly positive.
The list should give everyone the will to keep going - motivation for excellence and progress. To attain them and use them as goals or reward in life is the idea. Some use them as conquests or notches in their belt, which can lead to elitism or a reason to exclude others. But the list is always personal. For some, it may be to ride in a helicopter. For others, it may be to learn to walk, read or write. I am humbled at this thought. And I know I am blessed that my bucket list is full of luxuries.
I hope you get to drink, do and see whatever is in your bucket list. Tomorrow is not promised, so make today count.
Recommendations: 2007 Robert-Denogent Pouilly Fuisse La Croix ($35) This old-vine Chardonnay is a stunning example of how great Pouilly Fuisse can be. It offers up great ripe fruit along with a mineral component not often found in this appellation. It is beautifully intense and regal, better than most Meursault AOCs. 2004 Col d'Orcia Brunello di Montalcino ($58) 2004 is a great vintage for Tuscany and this Brunello exudes class and complexity. Sweet and sour cherry notes along with spices and porcini mushrooms make this a classic example of the noble Sangiovese.
Roberto Viernes is a master sommelier. E-mail
.(JavaScript must be enabled to view this email address)
Most Recent Comment(s):