A Fabulous Marathon Bordeaux Tasting

By
.(JavaScript must be enabled to view this email address)
Wednesday - October 01, 2008
|
Share

Del.icio.us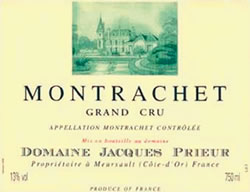 A supurb wine bursting with fruit
So what do the numbers 41,870 and 2000 have in common? The first number is the current market value in dollars of all the wine drunk at a party I recently attended. The theme for this massive tasting of fabulous wines was the 2000 vintage of Bordeaux. With more than 60 wines from Bordeaux and more than 30 other world-class wines from around the globe, this was a marathon tasting, but one of the most enjoyable I have attended this year.
By all accounts, 2000 is one of the greatest vintages in Bordeaux in recent memory, so my expectations were high for this Bordeaux extravaganza. One of the overall trends I noticed about the wines is the classed growths are still too young (duh!). Even with the double decanting of the top wines, they still had plenty of structure and fruit. Only eight years removed from harvest, and the top wines still have plenty of life.
As expected, the "second" wines such as Clos du Marquis, Petit Cheval, Carruades de Lafite and the like are drinking very well, as these wines mature much earlier than their Grand Vin counterparts. These wines show plenty of mid-palate fruit with secondary flavors and aromas already poking through, giving them an irresistible complexity for drinking now. I especially liked the Clos du Marquis, second label to Chateau Leoville Las Cases.
Something else I noticed that many Bordeaux naysayers perhaps would not acknowledge was the top Bordeaux still exhibit the terroir from which they derive their fame. Tasting the wines according to commune, the finest examples of their terroir in each case was the first growth. Chateau Haut Brion from the Graves was wonderfully earthy, stony and even gravelly. Chateau Lafite-Rothschild had the graphite, pencil-shaving aroma it is famed for in Pauillac. And Chateau Margaux was more clay-like and deep earth to the core. Chateau Cos d'Estournel showed mineral-layden elegance attuned to St. Estephe. Chateau Cheval Blanc combined mocha and cocoa notes in with wet forest floor that can only come from St. Emilion.
Of course, this fidelity to its earthy origins comes at a price.
Don't look for much value in the way of the 2000 Bordeaux Vintage now. The first growths are trading anywhere from $1,300 to $2,100 per bottle. Here are some highlights and lowlights from this gargantuan and generous tasting.
Best Bordeaux of the day: 2000 Chateau Latour ($1,700). This wine had everything. And it presents it all in such a gloriously royal fashion. The structure is inspiring with its depth and ripeness without going overboard. It is the complete package. It is scary good and will only get better over the next 20 years.
Best non-Bordeaux of the tasting: So many to choose from. 2004 Harlan Estate, 2005 Scarecrow, 2001 Penfolds Grange, 2005 Hundred Acre Kayli Morgan. Hard to vote against any of these, but the one that really caught me was the 1989 Jacques Prieur Montrachet ($395). This is a superb wine just bursting with fruit, elegance and minerality. Is there a finer expression of Chardonnay than Montrachet?
Best value of the day: La Fleur du Jauge ($45) from St. Emilion easily over-delivers "the goods" with still huge fruit, velvety texture and long, fresh finish. I enjoyed this more than many of the wines twice or thrice the price.
Most disappointing: 2000 Chateau Lafite-Rothschild ($2,000) Still better than most, but this bottle was a far cry from the perfection bestowed upon it by other writers.
Most interesting: The 2004 Roy Estate Cabernet Sauvignon ($95) had more earthiness than some of the actual Bordeaux! It still had the warm fruit of California but would have fooled me in a blind tasting. Delicious!
Weirdest Wine: This has to go to the 2005 Bodegas El Nido 'El Nido'($200). This Spanish wine made of Monastrell and Cabernet Sauvignon is like a cross between a cult Cabernet from Napa Valley, an old vine Barossa Valley Shiraz and a Port. It is jammy to the point of syrup and hugely extracted. Maybe good for pouring on pancakes?
Roberto Viernes is a master sommelier. E-mail
.(JavaScript must be enabled to view this email address)
Most Recent Comment(s):