A Healthy Attitude Toward Wine Ratings

By
.(JavaScript must be enabled to view this email address)
Wednesday - June 01, 2011
|
Share

Del.icio.us
So you stroll up to the buffet line and you hear someone say, "see, there is something healthy - salad." How healthy is that salad, really? i'm no health guru, but if it's the run-of-the-mill iceberg lettuce with some heavy dressing on it, it's probably not "healthy" for you at all. Unless it has some of those power foods like spinach, acai, quinoa, cranberries or blueberries in it, it probably won't improve your health a whole lot. that salad is probably mostly water and roughage and is not really "good for you." Yes, the salad is better for you than that roast pork or the crispy fried gau gee, but how beneficial is it?
That is the same way i feel about wine ratings. Yes, those lovely numbers that come after and sometimes before any description of a wine. they can be part of the 100-point scale, 20-point scale, 3-puff scale or even smiley faces. Are those really good for you? Yes, if you don't know a whole lot about wine. if you are a novice, it is good advice to follow someone whom you assume knows a lot more than you and tastes a lot more wine than you do. it is also good if you intend to solely purchase wine for investment. research has shown that the higher the score for a wine, the more valuable the wine will become over time. this is assuming the wine is stored properly and the supply of the wine is limited. Collectors know that rarity combined with high scores equals greater value in the wine.
but if you are beyond both of these issues, it is more important for you to find out which critic or wine writer you share your palate with and try to find wines you love in the category you love that you can afford. the ratings are just a starting point in the world of wine. it is not the destination or the essence of existence for wine. Yes, there are winemakers and/or producers who seek to craft a 100-point wine or perfection, but is it even possible to have a "perfect" wine? that is a subject for another time.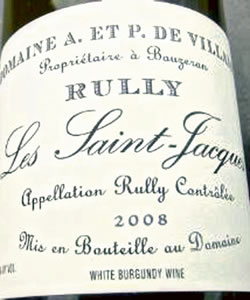 An elegant organic Chardonnay
As you learn what suits your own palate, you should also be able to build your own opinion. I've seen many wine drinkers start by trying all the high-scoring wines, then find out that they don't really like a lot of them. they find that they gravitate more toward one critic versus another. When they really delve into wine by visiting the regions, gathering with like-palated drinkers, they form their own expertise.
Just as a salad might be a good start for you, exercise and a regular balanced diet would be better for you than just a bunch of leafy greens every now and again. so a wine rating is a good guideline, but you ultimately should be the final arbiter. trust your palate and love what you love. now that's healthy.
Recommendations: 2008 Mer soleil silver Chardonnay ($22) this tropical fruited wine sees no wood and coats the palate with delicious hints of pineapple, sweet apple and papaya. simply melodious and great for practically any seafood dish. 2009 A&P de villaine Rully "Les saint-Jacques" ($32) organically grown, this is a beautifully delineated Chardonnay with heady fruit laced with vanilla and minerals. elegant and pedigreed. Do not miss!
Roberto Viernes is a master sommelier. E-mail
.(JavaScript must be enabled to view this email address)
Most Recent Comment(s):