A Spanish Seafood Complement

By
.(JavaScript must be enabled to view this email address)
Wednesday - March 26, 2008
|
Share

Del.icio.us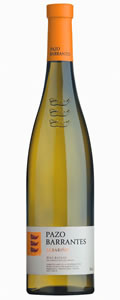 2006 Pazo Barrantes Rias Baixas Albariño is great with seafood
I've been eating quite a bit of seafood recently, and have had a fun time trying wines outside the Sauvignon Blanc, Riesling and Chardonnay boxes. In particular, I've found a couple of really refreshing whites from Spain, more specifically the Rias Baixas (pronounced ree-ush bi-shus). These wines are made with the Albariño grape and provide a wonderful complement to shellfish, seafood and green salads. Rias Baixas is located in Galicia, where Spain extends to the Atlantic Ocean between the Pyrenees of France and the north end of Portugal. This area is a hilly river basin that has a series of complex rivers and inlets, with plenty of alluvial soils with great drainage together with a continental climate that converge to produce some of the most refreshing and famous white wines of Spain. Albariño grown in this area has a wonderfully refreshing character. It always has a citrusy note that acts like a squeeze of lemon with any fish preparation. It has a zesty acidity that cleanses the palate and alcohol levels are moderate, hovering around 12 percent.
The 2006 Pazo Barrantes Rias Baixas Albariño ($20) is one of my new cool finds. The estate itself is well-established, being the ancestral home to the Creixell family since the 15th century. The winery was a more recent addition in 1991. With only about 30 acres of plantings entirely to Albariño, this estate specializes in making only the finest Albariño around. The wine is made using only stainless steel tanks, so there is no oak to overshadow Albariño intrinsic character. It has a powerful nose of lemon and lime zest with nuances of freshly cut grass, guava skin and Asian pears. A prettier nose from an Albariño is hard to find. Yet it excels on the palate with a really uplifting personality, buoyed by the refreshing acidity, finishing with a flowery note that comes at the back of your palate. It is succulent and very easy to drink - chilled and in plentiful quantities.
Another excellent version of Albariño comes from Bodegas Fillaboa. The name means "the good sister" and is owned by a family that has winemaking roots that go back to the 14th century. The wines are made entirely from estate-grown fruit unlike lesser producers that purchase fruit to blend together with their own.
The 2006 Bodegas Fillaboa Rias Baixas Albariño ($16) has a different personality than that of Pazo Barrantes. It is no less refreshing but has a thicker, gutsier flavor with more apple and pear, and an even oily sensation of apple skin that coats your palate. The nose is full of flowers and citrus, and a nice touch of mineral that makes it more earthy and deep. This would be the French horn of the bunch rather than the flutelike melodic character of the Pazo de Barrantes. The Bodegas Fillaboa Albariño is a beautiful wine that already has quite a following of sommeliers and wine geeks all over the country.
The last of a classic trio that you would do well to find is the Vionta Albariño ($18). This estate is slightly larger at more than 80 acres of vine devoted entirely again to Albariño. This palate-cleansing wine has an almost Riesling-like note of apricot and green apple. It is just as light and clean as Riesling without any of the sweetness. It also has a gulpability factor that too few wines can claim.
On warm afternoons and evenings, Albariño is something I could cuddle up with before and during a seafood dinner. Some producers believe there is a genetic relationship between Albariño and Riesling. If it is ever proven, there will be no wonder Albariño can have a prominent and commanding place on the table with a meal as any other white wine in the world, including Riesling.
Roberto Viernes is a master sommelier. E-mail
.(JavaScript must be enabled to view this email address)
Most Recent Comment(s):