A Wise Investment In Fine Wines

By
.(JavaScript must be enabled to view this email address)
Wednesday - March 24, 2010
|
Share

Del.icio.us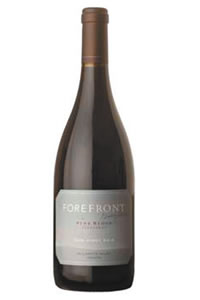 This Pinot Noir delivers high quality for the money
I once wrote that one of the reasons why wine is better than beer is because it appreciates in value. Have you seen how much some wines are selling for on the auction market these days? I am still amazed when a friend tells me the story of how they bought some incredibly valuable wine at ludicrously little money.
One friend with whom I've shared many wines loves to recount when, in 1985, he happened to go to a wine store that was going out of business. He knew a little about wine and heard a few names that were supposed to be famous and really good wines. He saw some Chateau Lafite Rothschild, Chateau Latour and Chateau Margaux on the display and they were discounted and closed out of inventory. He looked at the price and saw that the price had been marked down to $12 a bottle! Now, to him, this was a lot of money. He had just gotten out of school and just married. He thought his wife would think it a foolish and frivolous purchase. But somehow he knew that this was a good deal and something that he shouldn't pass up. He didn't have the money to buy everything he wanted, to so he actually borrowed some money so he could buy the rest of what the store had available. He went back and bought two and a half cases of 1982 First Growth Bordeaux at the "exorbitant" cost of $12 per bottle. He also splurged and bought a few bottles of 1982 Chateau d'Yquem at the "crazy" price of $16 per bottle.
A bottle of 1982 Chateau Lafite Rothschild goes for about $3,000 now, 1982 Chateau Latour is somewhere around $1,600 per bottle and 1982 Chateau d'Yquem hasn't gone up that much. It's "only" $500 a bottle. He says he has drunk almost all of them. But suffice it to say that he certainly got a really good deal.
Another friend of mine was traveling in L.A. sometime in the early '90s. He went out to dinner at a casual Italian restaurant. When he sat down at his table he started to peruse the wine list. He has worked in restaurants for years and has been in the wine business for an even longer time, so he knows his way around wines. He started realizing that the wine list was quite a collection. It included some of the top wines of not only Italy but the world. He reached the Burgundy page and his eyes practically popped out their sockets when he saw a bottle of 1985 Domaine de la Romanee Conti Romanee Conti for the whopping price of $500. He immediately asked the waiter how many bottles of it they had. The waiter replied that they only had one. Somehow my friend was able to convince the waiter that he wanted to buy it but not open it for dinner. He ultimately took it home. Well, today that same bottle is worth $20,000 on the auction market.
It is amazing to see how the values of the top wines of the world have risen from their original release price. I guess it is like buying shares of Berkshire-Hathaway when it was only $50 a share or buying vineyard land in Napa Valley when it was $10,000 an acre. I can't say how much the top wines will appreciate in value over time, but I guarantee that they will.
Recommendations: 2007 Forefront Pinot Noir ($22) This Willamette Valley Pinot Noir over-delivers in quality for the money. It has a sweet aromatic profile with a silky and generous texture full of ripe black cherry and plum flavors. 2007 Mantra Primitivo ($29) This is a ringer for a big, juicy, jammy Zinfandel with a weighty texture and full throttle fruit. This is hedonistic wine!
Roberto Viernes is a master sommelier. E-mail
.(JavaScript must be enabled to view this email address)
Most Recent Comment(s):