Choosing That Final Bottle Of Wine

By
.(JavaScript must be enabled to view this email address)
Wednesday - August 27, 2008
|
Share

Del.icio.us
I was cornered, and couldn't escape. A friend of mine asked me at a public tasting the dreaded question. "If you had only one wine to drink before you died ..."
I already had the answer to this question, but he continued.
"And you only had $50. What would that wine be?"
What?! I never had any limitations on the wine I imagined would cross my lips for the last time. Now someone had asked me to pick something with limits. I was so thrown that I couldn't answer right away, so I promised him and those who heard the question posed to me an answer on this page.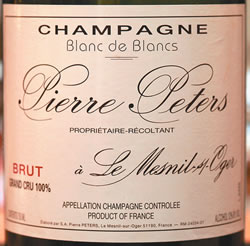 100 percent Grand Cru Chardonnay Champagne
First of all, I hope before having the knowledge that I would only be able to drink one more wine, I would have more than 50 bucks to my name! I know that the last shirt you wear has no pockets, or, as they say, "You can't take it with you." But I do plan on leaving some things for my family. It is a bit morbid to think about, but I do know of a man who has already chosen the wines to pour at his own funeral.
Secondly, I was always prepared for the first part of this question because I thought I could splurge with as much money as I did have to buy that last great bottle of wine I always wanted to try. Money being no object at the end of someone's life, I always thought of Grand wines: 1929, 1937, 1949 or 1952 Romanee Conti, 1978 Montrachet, 1947 Petrus or 1945 Mouton - all of these being so rare now that, by the time I hope to be on my last leg, they will probably end up being more expensive than a brand new C Class Mercedes-Benz.
This brings me to the loophole in the question. (Here comes the attorney in me.) What if I bought the bottle for $50 a few years ago? Or what if the release price was $50? The wine has increased in value since, but would it still count? A friend of mine told me how he actually got a loan to buy some Bordeaux upon release in the late 1960s. He bought 1967 Chateau d'Yquem at the exorbitant price of $13 per bottle. Chateau Latour was a whopping $8! Now you can't even get one of these wines upon release for less than $300 per bottle. I know I'm skirting the issue, but after imagining having one of the world's greatest treasures and now having to think about a $50 bottle of wine - it's a little anti-climactic. (This is not to say that there aren't any really good bottles of wine for $50, because there are.) On top of that, my taste is for wines that are more mature and have tons of complexity and secondary flavors. There aren't many producers that hold their wines back for an extended period of time before releasing them to the market, so I have to do it myself.
Anyway, back to the wine. Do I want a red wine to help my health? On my deathbed, I'm not sure how much a red wine will do to help. Should I pick something with high alcohol to help deaden the blow? No, I think I want to be lucid to say goodbye. Maybe something young and invigorating to remind me of my youth would be appropriate. Or maybe something timeless like Madeira as my body gets ready to become dust.
Ah, yes! I know. Champagne.
The beverage that celebrates life the most, from birth to baptism, weddings and birthdays, is what I would choose at $50. Alas, Krug has nothing at this price point (not even the half bottle). But perhaps the best Champagne that this budget could afford and would please my palate would be Pierre Peters Cuvee Reserve. It is 100 percent Grand Cru Chardonnay made by one of the nicest men in the business in lovingly small quantity. The lovely tiny bubbles with wonderful complexity and flavor would bring a smile to my lips.
I would drink it with glee, not to celebrate my death, but my life.
Not bad for 50 bucks!
Roberto Viernes is a master sommelier. E-mail
.(JavaScript must be enabled to view this email address)
Most Recent Comment(s):