Decadently Rich Italian Red Wines

By
.(JavaScript must be enabled to view this email address)
Wednesday - March 11, 2009
|
Share

Del.icio.us

Cries out for a grilled steak
I just tasted three of the finest Amarone that ever passed my lips. They were all Dal Forno Romano Amarone della Valpolicella. That's a mouthful in more ways than one. It reminded me of the greatness of Amarone and the beauty these wines can offer. If you haven't had a chance to taste Amarone, these are some of Italy's greatest wines.
First, let's talk about where Amarone comes from and what it is. It comes from the Veneto in the northeast of Italy - the same area that produces the DOC of Valpolicella. Valpolicella is known for its nice, fruity, medium- to light-bodied red wines made from a typical blend of Corvina, Molinara, Rondinella and a few others. In times gone by, Valpolicella was looked at as the Beaujolais of Italy, meaning it was easy drinking with bright-red berry fruit and just a touch of tannin not to be offensive. Valpolicella is a dry wine made with optimally ripened grapes crushed at harvest and usually aged in large Slavonian oak casks.
Amarone is made in the same area from the same grapes, but the grapes are harvested at optimal ripeness then actually dried. Traditionally they were dried on straw mats in a separate room or barn, and sometimes even in the winery itself. Obviously the grapes also were open to variations of weather and climate. Some years' results were different from others.
These days, the drying of the grapes is strictly controlled in warehouses under septic conditions with specific humidity and temperature, all to within 1 percent and 1 degree, and the consistency is now at an all-time high. As the grapes dry and dehydrate, they lose anywhere from 10 percent to 30 percent of their volume, thus concentrating all the beautiful sugars, acids and flavors in the skins.
Some producers say that the origin of drying grapes was an accident. But when they realized they could make better-tasting and more-concentrated wines from dried grapes - even in "lesser" vintages, those marked by rain or cool weather - it became a wide-spread practice.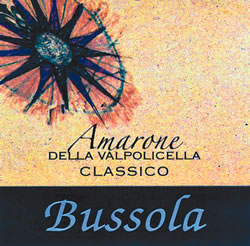 A real connoisseur's wine
It basically masked the shortcomings of the growing season or less-conscientious growers. At any rate, when these grapes are pressed, they produce richly concentrated must, and the resultant wine is higher in alcohol, very rich in flavor and intensity. These wines are frequently in excess of 15 percent alcohol and are some of Italy's longest-lived and most highly coveted wines. Because they lose volume, the yields here are very small, thus making Amarone intrinsically more expensive than Valpolicella.
Another variant of Valpolicella is Recioto della Valpolicella. This is traditionally made from only the dried "ears" of the grape bunches and results in a liquorously sweet and decadent wine that can be similar to Port but with marginally less alcohol. This is great, especially for dessert.
Perhaps the greatest producer of Valpolicella and Amarone della Valpolicella is Dal Forno Romano. He is called the "Grape King" locally and produces some of Valpolicella's most regal wines. They are coveted (read expensive) by connoisseurs the world over. He produces only 5,000 bottles of Amarone each year.
Guiseppe Quintarelli is another name you should know when it comes to Amarone and Valpolicella. Quintarelli is known as "The Maestro."
These two producers are the crème de la crème. There also are other producers such as Tomasso Bussola, Bertani, Masi and Le Salette that make top-notch wines worth searching out.
So if you are in the mood for an Italian red that has plenty of guts and sweet berry flavors all combined in a decadently rich package, Amarone is the one for you.
Recommendations: 2000 Bertani Amarone della Valpolicella ($119) Thick and juicy! Tons of sweet and dried blackberry compote with tobacco and cedary spices. This cries out for a grilled steak! 2004 Tomasso Bussola Amarone della Valpolicella Classico ($65) Great concentration and length with a huge nose of prune and cassis. The structure is dense but never overpowering - a real connoisseur's wine.
Roberto Viernes is a master sommelier. E-mail
.(JavaScript must be enabled to view this email address)
Most Recent Comment(s):