Discovering Tasty Messages In A Bottle

By
.(JavaScript must be enabled to view this email address)
Wednesday - September 10, 2008
|
Share

Del.icio.us
You know by now the wines that excite me the most are the ones that express where they come from. Those "messages in a bottle" that show you only that particular grape grown in that particular region are, to me, the upper class of winedom. And yet, I must admit when I think of "messages in a bottle," Australia doesn't exactly top my list.
Enter Michael Twelftree of Two Hands Wines. He and partner Richard Mintz started Two Hands wines in 1999 in South Australia designed to specialize in - what else? - Shiraz.
Twelftree started his professional career in the construction industry and never drank wine growing up until, at the age of 25, he decided to accompany a football mate to a wine tasting where he quickly fell passionately in love with wine. And believe me, this man is passionate about wine.
He is not only passionate about wine, but also deeply knowledgeable about the world of wine, whether it is classification of vineyards in Burgundy, the nuances (or lack thereof) of California Chardonnay or the soils on the hill of Hermitage, Twelftree is a world wine lover. Having such a worldly palate, he looks at the great wines of the world as icons, rather than anything produced in Australia. And perhaps this is why his wines struck me so profoundly.
There is no better place to specialize in Shiraz than in the Barossa Valley, where the winery is located. To Twelftree, Shiraz is such an awesome grape varietal: "It has a purity of fruit. We have to work on taming that fruit. Getting it into a texture and succulence is very difficult. We work very hard getting the tannin structure just right. Australian Shiraz stands apart from Syrah from France ... it can be great straight out of the box and age wonderfully."
But can it translate the "terroir" in which it is grown as well as, say, Pinot Noir or Riesling? I was about to find out.
Two Hands Wines produces the "Garden Series," which is a regional showcase of what they believe to be the top six growing districts for Shiraz in Australia. Twelftree is quick to point out that their philosophy is to have the fruit in the wine be the primary feature, with oak playing only a supportive role. They also handle each parcel - no matter how small - separately, in order retain their "genetic imprint."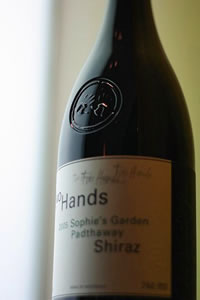 Sophie's Garden: a hugely spicy nose and cool fruit character
First is 2006 Max's Garden Shiraz from Heathcote in Victoria (their only wine from outside South Australia). I am surprised at how finesseful this wine is. It opens up with a very ripe cherry note, then leads into dusty earth (undoubtedly from the deep-red Cambrian soils that are distinct feature of Heathcote) and spice. It is almost a Grenache-like Shiraz. It is graceful and lithe and easy to chug despite being rich of fruit.
The 2006 Samantha's Garden Shiraz is from Clare Valley, one of the most northerly areas of South Australia where Riesling is also a specialty. The nose is louder here with loads of ripe red fruits. The attack is more aggressive, with darker fruit on the palate and a marginally silkier structure than Max's Garden. I would say it is still leaning toward the elegant side, but with a nice and fat mid-palate.
Next comes the 2006 Harry & Edwards Garden Shiraz grown in alluvial soils of Langhorne Creek. A big menthol character frames a solid core of dark-red fruit with a peppery spice and deeper earthiness than any of the previous Shiraz: distinctly masculine but steroid-free.
The 2006 Lily's Garden Shiraz comes from McLaren Vale. This takes us over to the black fruit zone with clove, mocha and roasted fruit essences blasting off from the glass. The palate is staining in color and intensity - really something special here.
Now I taste the 2006 Bella's Garden from Barossa Valley, which is a powerful wine in every sense of the word. It is impactful and has everything any great Shiraz lover would want: terrific fruit, the wow factor and a wonderful texture with folds of tannin beautifully integrated. This is a thick beauty and reminds me of a stallion that pounds the ground as it runs, controlled yet unstoppable.
Finally, the 2006 Sophie's Garden from Padthaway, which is the coolest climate from which Two Hands gets Shiraz. This has a hugely spicy nose and deceptively cool fruit character with notes of savory herbs and black fruit. It leads into a rich palate framed by thick tannins and a lifted acidity that keep it balanced.
None of these wines was overly oaked or over-the-top, grotesque expressions of alcohol and fruit. They were all delicious and joyous. As far as which one I liked best, I would have to say the Lily's Garden from McLaren Vale, as it combined both elegance and masculinity the best for me. Another thing I loved about tasting these beauties was it proves Shiraz does express its terroir, and that the regional differences are louder than you might think, if you are willing to smell and taste them.
And may I say that these Two Hands Wines Shiraz do it better than anyone else I've tasted from Australia. Bravo!
Recommendation: Michael Twelftree will be featured at the Kahala Resort Food and Wine Classic Sept. 12-13 featuring his wines, and you too can take this wonderful journey across Australia through Two Hands Wines.
Check out www.kahalaresort.com or call (808) 739-8760 for more information.
Roberto Viernes is a master sommelier. E-mail
.(JavaScript must be enabled to view this email address)
Most Recent Comment(s):