Dry Rose: Perfect For Summertime Sipping

By
.(JavaScript must be enabled to view this email address)
Wednesday - June 03, 2009
|
Share

Del.icio.us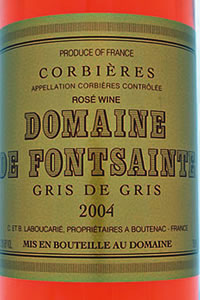 So refreshing on the palate
I feel like Sisyphus when I suggest a dry rose for food and wine pairings. He was a king in Greek mythology sentenced to roll a huge boulder up a hill only to watch it roll back down for eternity. But here I go again. I think dry rose wines are some of the best wines to pair with food.
First, let's talk about how rose wine is made. It is made either as a blend of red and white wine, or by using the "saignee" or "bleeding" method. The first technique is most often used in Champagne. It is the only appellation in all of France that allows producers to blend red and white wine to produce a rose. (By the way, I love rose Champagne.) The second technique is actually a byproduct of red-wine making and comes into play in the majority of classical wine production areas around the world. The basic technique is to let the skins of black grapes stay in contact with the juice and slowly drain the uncolored to lightly colored must from the bottom of the vat/container.
However, there are two variations or philosophies behind this technique. The first is to produce a rose only as a byproduct of making a red wine. This bleeding has the direct effect of increasing the skin-to-juice ratio for a red wine, thus in many winemakers'minds concentrating the aromas and flavors of the red wine. But the rose as a result is often just lightly colored and not very flavorful. On the other hand, the more conscientious rose wine producer harvests grapes that are designed for creating a rose wine, and that they make a red wine after making the rose first is a secondary benefit. So it just depends on which is more important to the winemaker.
Now let's talk about the reputation of rose wines. Most consumers associate rose with sweet, tutti-fruity white Zinfandel, which in some people's minds is not a "fine" wine. (I personally think that if you enjoy it, go for it!) Even non-wine drinkers would look at a pink beverage and immediately think it has to be sweet. It's just wired in us to think that pink is sweet. But the truth is there are plenty of roses that are made and meant to be dry. It is only because it comes from red grapes that it looks pink. Think of it as a younger brother of red wine.
Dry roses are, by definition, dry, not sweet. They drink more like white wines, but because of their contact with red grape skins they exhibit so many other aromas and flavors that are impossible for white wines to achieve. The whole red fruit spectrum is available to them: strawberries, cherries, rose petals, raspberries, cranberries, herbs, spices and dried flowers - many of the flavors you would find in a red wine. But it affects the palate like a white wine without much or any tannin, and is usually lighter in body with a refreshingly bright acidity.
And for these exact reasons, dry rose goes great with a multitude of foods. Salads with vinaigrette have no problems. They adore shell-fish, especially ones with a hint of tomato or olives. With fish, it's a "no-brainer." So chill one down nicely and get over the whole "pink" thing. With the heat of summer on its way, you'll be glad you did.
Recommendations: 2007 Domaine de Fontsainte Gris de Gris Rose ($16) Super nose of fresh strawberries and cream, light tangerine and apples round out the mix. It is so refreshing on the palate, you will not be able to drink just one glass. 2007 Marques de Caceres Rioja Rose ($12) A big bowl of spiced red berries come to mind. This one is richer than most and can go great with fowl and even duck.
Roberto Viernes is a master sommelier. E-mail
.(JavaScript must be enabled to view this email address)
Most Recent Comment(s):