Enjoying Wine By Keeping It Simple

By
.(JavaScript must be enabled to view this email address)
Wednesday - April 07, 2010
|
Share

Del.icio.us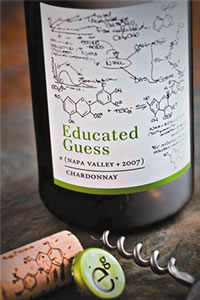 A creamy and smooth Chardonnay
Wine can be so complicated. There are so many facets to learn.
First you have to figure out what you like. That will take a while. Then you have to figure out what each vintage has to offer every single year, then take into account what type of glass-ware to serve it in, what temperature to serve it at and what kind of food to pair it with.
It can seem quite daunting to really delve into wine. But I would like to say that it is only as complicated as you want it to be.
Wine geeks like myself enjoy wine in the same way everyone else does. We drink it, sip by sip, glass by glass and bottle by bottle.
There is no secret to enjoying wine. It is basically a hedonistic experience. You drink a wine that you like with food you like together with people you like. It's really that simple.
The intricacies of food and wine pairings, as I've written before, are an inexact science. We are not always right and every pairing doesn't have to be perfect. Food and wine pairing is sometimes an afterthought when you look at some of the cultures where wine is produced. Our ancestors pulled a bottle of wine to drink with their meal. It could have been a red wine with roasted chicken or a white wine with a simple grilled red meat. Only since the elevation of food to "haute cuisine" has wine seen a similar elevation and glorification.
I do detest when some people make wine more complicated than it should be. I remember meeting a gentleman who was elaborating on the differences between the top, middle and bottom third of a Jeroboam of Bordeaux.
Perhaps there was a difference between each glass. The time between pouring the first glass and the last was at least 10 minutes, even in one go. So should someone complain about having been served only the first glass? Why not serve each guest a glass from each section of the bottle?
See what I mean?
Yes, there is no doubt that the temperature and type of glassware being used to serve a wine can make a big difference in the experience of the wine. But is it going to stop me from drinking the wine if there are no Riedel glasses in the restaurant? Shall I bring a digital thermometer every time I go to a wine dinner?
We do the best we can with what we have. And we can still enjoy the wine.
All this complication can lead to an illusion that wine is essentially exclusive and that if you are not "in the know" you really are not going to be able to enjoy the wine. It can also lead to wine snobbism, which might be the worst thing in the wine industry. Screw that!
I say keep wine simple. Find one you enjoy, stick to it or not. As long as you enjoy it, in whatever form, whatever glass and with whatever you want to eat. Don't let the "rules" of wine dictate how you enjoy it.
Recommendations: 2006 Faust Cabernet Sauvignon ($39) This is one of those mid-priced Cabernets from Napa Valley that simply over-delivers. It jumps from the glass with sweet blackberry scents together with a thick and decadent texture. 2007 Educated Guess Chardonnay ($22) Creamy and smooth, this Napa Valley Chardonnay has gorgeous roundness with a sweet flavor of butterscotch-covered apples.
Roberto Viernes is a master sommelier. E-mail
.(JavaScript must be enabled to view this email address)
Most Recent Comment(s):