Falling In Love With Pinot Noir

By
.(JavaScript must be enabled to view this email address)
Wednesday - July 11, 2007
|
Share

Del.icio.us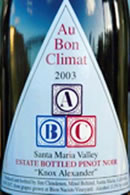 Au Bon Climat is a
luxurious and
elegant Pinot Noir
This past weekend at the Kapalua Food and Wine Festival I was on a panel with other master sommeliers and wine makers discussing "What's hot and what's next." I was asked to talk about Pinot Noir. As you may or may not know, Pinot Noir is my favorite wine and grape so I had plenty to say about it.
First, I love Pinot Noir because it is sexy! It is the most sultry, lusty, silky textured wine in the world. Grown in the right place and made by the right hands, when you put it on your palate it has the sleekest texture in the world. The tannins are so fine because of its thin skin, not gritty or thick like most other red wines. It has the most varied and complex aromas of any red wine. I read somewhere that great Pinot Noir smells like sex. I can agree to a certain extent. It can certainly have the musk and earth along with gorgeously complex fruitiness, spices and floral notes, much like perfume on a woman's body.
I love it because it is refined and elegant. It is a wine of finesse. It is rarely - and never should be - bombastic. Pinot Noir leaves that for Cabernet Sauvignon, Syrah/Shiraz and Zinfandel. It is a wine that whispers in your ear sweet nothings rather than grabs you by the hair on the back of your head. It is lighter in body and color than most other reds. Yet for all its lightness it takes no back seat in intensity of flavor. Flavor is never measured in color. Pinot Noir is elegant beyond compare to any other red, just like a beautiful woman.
As a food accompaniment, there is no other red wine that can match such an array of food. It is one of a handful of wines that can actually pair with fish. Believe it or not, seared but rare cooked steaks of ahi are as good a pair with Pinot Noir as grilled salmon. It is intense enough to match with game and fowl. Duck is a natural, but lamb can be even better. And even grilled and roasted meats can be bettered with a bottle of great young Pinot Noir.
My favorite wines all have a sense of place. Pinot Noir more so than any other red wine expresses where it comes from.
It is a vehicle for the terroir, or the land and climate from which it comes. Burgundy is the best example of this, where over hundreds of years they have created a registry of small vineyards that express something different, even though they are mere meters away, all through the Pinot Noir grape. Even in the U.S., Oregon Pinot Noir smells and tastes like a country away from Santa Rita Hills Pinot Noir. And even within Santa Rita Hills, the Melville Vineyard expresses something completely different from the Clos Pepe Vineyard, despite being only 25 paces apart.
Pinot Noir is often called "the heartbreak grape" because it is difficult to grow and people once had a hard time finding good examples of it. Now it is one of the most popular wines with plenty of great producers from all over the world to fill your cellar with.
So go ahead, try one. You may fall in love.
Pinot Noirs to cherish: 2004 Au Bon Climat "Knox Alexander" $48 sleek, luxurious and elegant. Need I say more? 2005 Lucien Boillot Gevrey Chambertin $49 you would think this is a Premier Cru bottling, it is so giving of fruit and intensity. Lovely wine.
Roberto Viernes is a master sommelier. E-mail
.(JavaScript must be enabled to view this email address)
Most Recent Comment(s):