Following In Robert Mondavi's Footsteps

By
.(JavaScript must be enabled to view this email address)
Wednesday - July 23, 2008
|
Share

Del.icio.us
This past Fourth of July weekend, I drank a bottle of 2003 Robert Mondavi Reserve Cabernet Sauvignon with family. It was delicious - beautiful black fruit laced with an even amount of vanilla and oak spices. The texture was rich but not overdone, with an excellent persistence and intensity of flavor. It is a textbook example of the excellence of Napa Valley Cabernet Sauvignon. But beyond the lovely flavor of the wine, it reminded me of the great man who passed away May 16, 2008 at the age of 94.
Robert Mondavi is an icon in the wine industry. His accomplishments are many and have been chronicled by many writers and magazines the world over. Unfortunately I never got to meet the man in person. But one of the things I ask myself is who is the next Robert Mondavi? Robert Mondavi was not only successful in his business; he was a pioneer and an ambassador for California wine, especially Napa Valley. He traveled extensively, always learning and sharing. The name Mondavi is synonymous with California wine. The Mondavi brand is ubiquitous and for good reason. It offers wine at every price point that is satisfying and is an easy selection for its quality. Few wineries can claim the same.
So who will take up the banner for California wine? Ernest and Julio Gallo of Gallo Wines are no more, Ernest passing away earlier this year as well. Perhaps one of their children still in the business will find the same passion. Jess Jackson, the founder of Kendall-Jackson, is practically a household name, and he has surely built up an empire of wine himself. He would be a wonderful candidate to champion California wine around the world.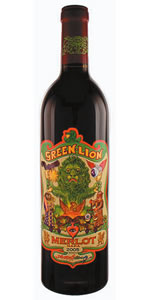 A blockbuster of a Merlot
Does California need another Robert Mondavi? My answer is yes. There is even more competition now from New World countries such as Chile,Argentina and Australia for the attention of the global economy than ever before. California should take the opportunity now, while the dollar is weak, to export as much wine as possible overseas to gain distribution and become mainstream in countries such as China, Vietnam, Korea, India and Russia. Promotion abroad could maintain business during lean domestic times. It's also not a bad way to write off a business trip.
Is California too fractured now to even care about the big picture? With the movement for wineries to create their own American viti-cultural areas (AVAs) with their own individual characteristics, it is difficult to see the California wine industry with much solidarity. So why anyone would put so much effort and time into promoting California anyway? Well, that is just my point, and a perfect example of how Robert Mondavi made such an impact on the wine business, and yet another reason why someone should pick up the torch.
A couple California Standouts: 2005 Au Bon Climat Cuvee Isabelle Pinot Noir ($45) Time and time again, I am impressed with Jim Clendenen's ability to make such a luxurious wine without it being gaudy and overly alcoholic. The beautiful cherry and berry aromas fuse with a touch of spice. Seductive in texture, this is a wine that will also repay cellaring for five-10 years. Me like plenty! 2005 Green Lion Merlot ($15) Made by Australia winemaking guru Chris Ringland, this is a blockbuster of a Merlot and at a wickedly good price. Super-ripe and almost jammy notes of plum and cassis explode from the glass with a thick and decadent amount of fruit, vanilla and tannin coat the palate. Impressive.
Roberto Viernes is a master sommelier. E-mail
.(JavaScript must be enabled to view this email address)
Most Recent Comment(s):