Gamay Beyond Beaujolais Nouveau

By
.(JavaScript must be enabled to view this email address)
Wednesday - March 17, 2010
|
Share

Del.icio.us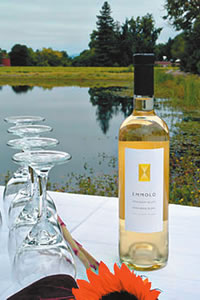 A serious Sauvignon Blanc
They gasped when the identity of the wine was revealed. They looked at each other in disbelief. How could they have been so wrong?
I'm referring to a recent blind tasting where we brown-bagged several wines and tasted them side-by-side to see which wine we thought was the best. There were Pinot Noirs from different parts of Burgundy and there was one Beaujolais, a Cru Beaujolais from Morgon. And it was the wine that most people said they enjoyed the most.
Is Gamay the new Pinot Noir? I don't think so, but it certainly should be held up higher than the bottom rung that most wine drinkers look down upon. The problem is, the Gamay that most of the world knows and loves is Beaujolais Nouveau. This is a fun, straight-forward, fruity treat that we enjoy perhaps only once a year, in November. So we take that most common example as an indication of what Gamay Noir should be. I am here to tell you it can be so much more.
Let's take Beaujolais to start. Beaujolais has 10 distinct villages called crus that are recognized for an elevated quality of wine above the rest of the region. The soils found in these villages tend to be heavier and rockier than the other village-level soils. This gives Gamay a richer, deeper, more-structured character. Now add to that some serious wine-makers who treat Gamay as if it were Grand Cru Pinot Noir - not in the sense of adding so much wood, but choosing only grapes from old vines with better concentration, not adding any sugar to pump up the alcohol levels, not dosing it with too much sulfur and not using the carbonic maceration that gives Gamay that "bubble gum" fruitiness.
These are winemakers that hold Gamay in high esteem, and let me tell you that when you have an eight- to 10-year-old Morgon from the likes of Jean Foillard or Marcel Lapierre, you will be wowed! It smells of beautiful cinnamon, cherry, strawberry, earth, cardamom tea and so much more. Pinot Noir is silky, and aged Gamay certainly does touch the silky edge of the envelope. What's more is that the wine costs pennies in comparison to Burgundy. Perhaps the most expensive bottle of Cru Beaujolais on the market would be about $40 retail. You would be lucky to find a decent red village Burgundy at that price and the Grand Cru are triple digits in the least.
There are even some domestic producers that are making some really interesting and seriously enjoyable Gamay. Evening Land from Oregon and Paul Mathew from Knight's Valley are two of the crème de la crème. Don't think Beaujolais Nouveau, think Gamay with an attitude. Oh, and by the way, Gamay is great with our local cuisine because it has softer tannins and less bitterness than almost any other red wine around.
Perhaps Gamay should be called Gamay Noir to give it a "dark" or more "serious" side. Its official name is Gamay Noir au Jus Blanc, but that's too long. Gamay Noir would give it a little more street cred. At any rate, even in a brown bag, Gamay can be quite impressive.
Recommendations: 2005 Conn Creek Anthology ($45) I thought this was one of the best wines at a recent tasting of more than a dozen meritage blends. It is thick, deep and rich with complexity that expands over an hour. 2007 Emmolo Sauvignon Blanc ($17) This is one of the most serious examples of Sauvignon Blanc from California. It has awesome fruit, grapefruit, kiwi, guava and all with a mineral edge and a terrific length of flavor.
Roberto Viernes is a master sommelier. E-mail
.(JavaScript must be enabled to view this email address)
Most Recent Comment(s):