Gifts For The Wine Lover In Your Life

By
.(JavaScript must be enabled to view this email address)
Wednesday - December 23, 2009
|
Share

Del.icio.us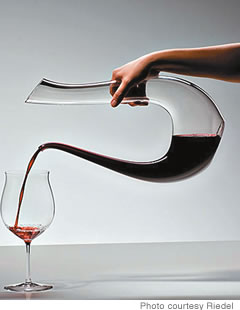 A decanter is a useful gift
Are you ready for Christmas? Have you got that wine lover in your life something special yet? Here are some tips for shopping for something that they will truly enjoy.
It is truly difficult to find the "perfect" wine for someone. Many wine lovers are very specific in their tastes. Unless that special someone has asked for a specific wine or you know what they like for sure, my recommendation is to get them a gift certificate to their favorite wine shop. Shopping is part of the fun (especially for ladies).
Now, if you know what they like, it would go a long way to finding a special bottle of wine when you ask the salespeople in the store for help. Most of the people in the wine store are just dying to tell you about something special that they just drank or just got in stock. They can help you find something in your budget. Ratings can help in some cases, but knowing the taste of the recipient is most important.
Wine accessories are great gifts. As I've written before, glassware can really improve the experience of wine drinking. Not only are they beautiful, but they physically enhance the experience in your palate. Riedel is my stem of choice, and the way they help you enjoy the wine helps the glassware pay for itself. I haven't had any better. They are designed for specific wines so, again, make sure that you know what the recipient likes to drink most. They come in several price ranges and are more durable than most give them credit for.
Serious wine drinkers will have need of a decanter. Mature wines with sediment and big, thick, tannic and young wines that need some air to show well will all need decanting. Riedel makes the most beautiful works of art that I know of for decanters. But decanters come in a myriad of shapes, sizes and budgets. I saw a glass one at a discount store for only $8! And it was certainly functional and had a nice hourglass shape. At worst, they will use it as a vase!
Carrying cases are another fun gift for wine lovers. Again these come in all shapes, sizes and materials. For me, the two most important things in choosing a carrier are that the wine can maintain its temperature and it will protect the bottle from breakage in short falls. No one wants to wait for a bottle to chill down after the party has already started. Nothing says "I don't care" like bringing a nice bottle of wine in a brown paper bag to a party.
I like the one that looks like a mini-ukulele case. It's a great conversation piece and it keeps the wine cold with the lining inside. Neoprene "gloves" are great for keeping the temperature of the wine, but it is sometimes hard to get the bottle in and out of the sleeve. There are plenty of fancy wooden cases, but it doesn't sound so good when the bottle is jostling inside. They do look great.
Finally, there are dozens of wine openers on the market. I have three indispensable ones at home. The first is the waiter's corkscrew. I prefer the one called "The Winner," which is by far the fastest and simplest one I have used. I use this 90 percent of the time for all young and mid-aged wines. Second is the French screwpull. This comes in several different styles, from tabletop to hand-helds. I like the hand-held version, which is easiest to transport. I use this for older bottles that require some finesse in extracting the cork. The last one is called an Osso cork puller. It is a two-pronged instrument that I use for very old and deteriorating corks.
And if the cork is too far gone to extract and ultimately crumbles into the bottle, the things your wine lover will need are a funnel and filter. Yet another great idea for a Christmas gift!
Whatever you give or get, may the spirit of Christmas fill your home.
Cheers and Merry Christmas!
Roberto Viernes is a master sommelier. E-mail
.(JavaScript must be enabled to view this email address)
Most Recent Comment(s):