Giving Thanks For The Blessings Of Wine

By
.(JavaScript must be enabled to view this email address)
Wednesday - November 26, 2008
|
Share

Del.icio.us
A terrific value always easy to drink
Aaaah! Thanksgiving, my favorite holiday. It is a time for reflection and to be truly thankful for the blessings we have. Including among them the wonderful opportunity to share and enjoy great food, wine and good times. This year is no different. In fact, I probably have more to be thankful for.
Here some of the wine-related things for which I am thankful:
You. I am thankful for you, the readers of my column. I love your feedback and I hope you continue to enjoy reading my column. I also hope it sparks your interest and discussion.
I am thankful that the dollar is strengthening against the Euro. It is easing the blow to my wallet when I buy European wines. The effects are not immediate, but those prices will soften.
I am thankful that the wines in my cellar are a year older and getting closer to maturity. It's always difficult for me to open something I know is still too young and nowhere near its optimal drinkability. Now they are at least another step closer.
I am thankful there are still wine producers who believe in the "soul" of their wines. These are the estates that express the "terroir" of their vineyards. They are the wines with messages in a bottle. They take an alcoholic beverage and elevate it into a work of art. If they ever disappeared, I think I'd have to leave the business altogether.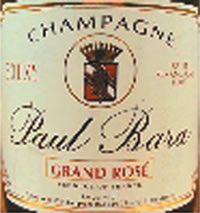 A complex blend with plenty of depth and structure
I am thankful for the great $5 bottle of wine that is available to the masses. Without those wines that offer refreshment and everyday value, many wine lovers the world over would become alienated and maybe stop drinking altogether.
I am thankful for the screw cap (i.e. Stelvin closures) and any other packaging device that allows me the luxury of not having to stress over if the wine will be corked or tainted in some fashion. I don't have to lug two bottles around just in case one is "bad."
I am thankful for secondary fermentation. This is the technical name for what gives Champagne and other top sparkling wines around the world their effervescence. I cannot imagine a world without Champagne. I don't wait for holidays or special events to drink it. It is as normal to me as drinking a beer.
I am thankful to the great wine importers of the U.S. such as Kermit Lynch, Terry Theise, Martine Saunier, Dan Philips and Jorge Ordonez for bringing the great wines of the world to our fair shores. Their ability to search out the world's wine-producing gems is something I envy. Without them, I would not know as much as I think I do or have experienced so much of the world's greatest wines.
I am thankful that sake is becoming more popular in Hawaii. It's not just for sushi anymore. Sake has such beautiful nuance and complexity and can match a wide array of food - even pizza! And no sulfites. (More to come on this subject.) I enjoy it very much.
I am thankful that my passion is also my vocation.
What are you thankful for? Recommendations: 2006 Danzante Pinot Grigio ($10) A terrific value that over-delivers with plenty of ripe apple and pear fruit flavors and always easy to drink. 2004 Cims de Porrera 'Solanes' Priorat ($26) This is a complex blend of Carinena, Garnacha, Cabernet Sauvignon, Merlot and Syrah that really sings out of the glass. It has plenty of depth and structure to make Bordeaux drinkers happy and fruit for a Napa Merlot drinker, too.
Roberto Viernes is a master sommelier. E-mail
.(JavaScript must be enabled to view this email address)
Most Recent Comment(s):