Good Champagne Starts With The Grass

By
.(JavaScript must be enabled to view this email address)
Wednesday - July 16, 2008
|
Share

Del.icio.us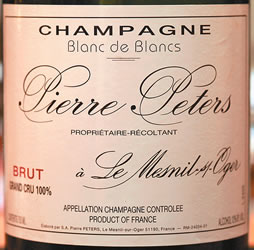 Peters is made from Chardonnay
"Let's talk about grass." That's not something you expect to hear when you come from Hawaii and are visiting Champagne. But that is exactly how Rudolf Peters of Champagne Pierre Peters in the Grand Cru village of Le Mesnil began my visit with him on my most recent visit.
Champagne Pierre Peters is what we call a "grower" Champagne. They only use the grapes they grow themselves to make their own Champagne. Most of the big Champagne houses that are familiar to us purchase the majority of the grapes that they need for their production. I came to learn a little about "grower" Champagnes but instead got a master's class on the terroir of Le Mesnil.
Rudolf is a young (38) and detail-oriented fellow with a spritely affect and evident passion for his craft. He started our tour talking about grass because planting grass in the vineyard is one of the techniques growers use to force their vines to work deeper vertically into the soil instead of sending out roots horizontally to look for nutrients. This is just one technique among many that Rudolf uses to keep his vineyards in the best condition.
But he is quick to mention that, "The only rule is that there is no rule."
There is more than one way to make great Champagne, but one must start with great grapes, and that all begins in the vineyards.
Rudolf took us on a tour of the vineyards of Le Mesnil, showing us the different vineyard farming techniques used. Le Mesnil is a Grand Cru village, the highest rating for any Champagne village, and is most famous for its Chardonnay grapes that make some of the finest Blanc de Blancs available. Our first stop was the famed Clos du Mesnil, made famous by Krug. This walled vineyard is the only one that is located entirely within the village, giving it a very special micro-climate.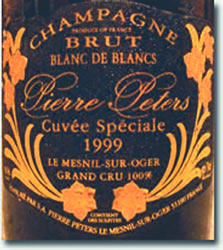 Cuvee Speciale really is special
Our next stop was some the estate vineyards of Salon located just behind its cellars and press house. And finally, our visit would not be complete without visiting Les Chetillons, the heart and soul of Peters'Cuvee Speciale, its "Prestige Cuvee," or flagship. All three are at different elevations and aspects, yet Rudolf points out that all the greatest vineyards of Le Mesnil lie very close or within the village itself.
Next stop was the winery. The Peters family specializes in Champagne made only with Chardonnay. They are actually from Luxembourg and transplanted to Champagne in 1840. His grandfather, Camille Peters, started making Champagne in 1919 with his father establishing Champagne Pierre Peters in 1944 at the end of World War II. He was one of the first 10 grower producers. Rudolf began in 1991, with his first independent vintage being 2000. In the winery, initial fermentation is in stainless steel, keeping the lees in contact with the wine as long as possible to give the wine more flavors. Each vineyard is fermented separately in order to give them the "largest palate available during blending."
Another advantage for the Peters' is that they have a large amount of reserve wines to blend into their wines in order to maintain consistency and complexity. This is exhibited in the NV Pierre Peters Cuvee Reserve ($39) which is a blend of wine from Le Mesnil, Avize and Oger (all Grand Cru Chardonnay Villages). It is almost Chablis-like, with a penetrating minerality, great balance and elegance and long aftertaste. This is a most refreshing Champagne that is not only cleansing but complex. The 2000 Cuvee Speciale 'Les Chetillons' ($79) is another quantum leap up in character. Toasty, almost caramelly, it suggests ginger, tamarind and dried apple, and is rich, round and exceedingly long. This is truly a regal wine that will repay anyone with patience. Our visit ended with a treat from the family cellar - 1976 Cuvee Speciale - which was absolutely incredible. Notes of coffee, mocha and porcini mushroom waft from the glass, and it was even better on the palate with more poached apple and pear fruitiness. No matter how professional I try to be, it was a wine I could not spit. It was a wine to meditate upon.
Pierre Peters Champagnes are some of the greatest expressions of Le Mesnil. They are wines that connoisseurs and Champagne lovers all over the world clamor for, with good reason. And Rudolf Peters is a man who is rightfully proud of his roots and his soil.
And, I dare say, his grass.
Roberto Viernes is a master sommelier. E-mail
.(JavaScript must be enabled to view this email address)
Most Recent Comment(s):