Great Wine And A Lovely Woman

By
.(JavaScript must be enabled to view this email address)
Wednesday - April 09, 2008
|
Share

Del.icio.us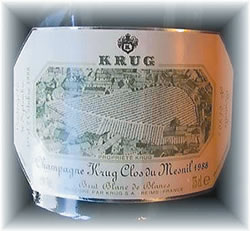 1988 Krug Clos du Mesnil: one of heaven's nectars
This past week I had the wonderful privilege to taste one of the most fabulous Champagnes: It was a perfect bottle of 1988 Krug Clos du Mesnil.
This 100 percent Chardonnay made from a single Grand Cru vineyard in the village of Mesnil sur Oger in Champagne is one of heaven's nectars. The nose boasted of orchard fruits, lemon, lime, tangerine, Granny Smith apples, biscuits, chalky minerals, toast, lemon grass and more. It is unbelievably powerful with ineffable flavors that imprinted themselves on my palate. It was as flawless a Champagne as I can recall. This wine has such balance and intensity that it will quite easily last another dozen years and beyond. It was simply one of the best wines I have drunk this year. Good luck finding it, and I hope you're sitting down with a seatbelt on, because it is a "mere" $1,500 per bottle. That is the cheapest I could find it online. If you have the means and the taste for great Champagne, this is one you must taste to believe. I think it was perfection, or as close as you can get.
This past weekend was my wife's birthday -when she turned 29, again - and we celebrated with friends and family over some fun wines. Over lunch we enjoyed a bottle of Moet et Chandon White Star ($40) which many actually used to make a luau mimosa mixed with orange-flavored Luau Punch. It was a breezy yet warm day, but the chilled Champagne and all the bubbles made me feel cooler, both temperature-wise as well as in my own mind.
Later with dinner - for which I prepared opakapaka and sole filets over pasta with oregano, Kalamata olive and tomato sauce, among other things - we had a very tasty bottle of 2006 Cavallotto Langhe Bianco ($20) from Piemonte. This wine is made with a very unique albino clone of Pinot Noir. It tastes like a cross between Chardonnay and Pinot Gris, wonderfully balanced and refreshing with bright acidity. It finishes with a savory note of herbs that went great with the Mediterranean dish I concocted. If it weren't for the fact that Sunday night is a weeknight, we would have drunk more.
For those of you who read my column regularly, you have already read my prediction of how wine prices are escalating at a fevered pitch. (See the Oct. 24 issue) Am I the only bird singing this tune? I already feel badly when I write about wines that many cannot afford. I try to turn you on to great deals all around. But I must tell you that I recently got an offer from one of our suppliers for a single bottle of wine that we would sell for more than $14,000! This is not a misprint. That is three zeros after the one and four. That is an amazing amount of money for a bottle of wine. Sure, some can afford it, but why charge that much for it in the first place? It doesn't cost that much to produce. It isn't really that old and has no track record. This is a new and very limited release. I'm sure they will sell every bottle they have to those people of the Forbes lists set but, man, you have to have some chutzpah to charge that much for a bottle of wine.
I'll let you know if it's worth it, if I ever get to try it.
Maybe I'll be singing a new tune if it is.
Roberto Viernes is a master sommelier. E-mail
.(JavaScript must be enabled to view this email address)
Most Recent Comment(s):