In Wine Tasting, Less Is More

By
.(JavaScript must be enabled to view this email address)
Wednesday - May 26, 2010
|
Share

Del.icio.us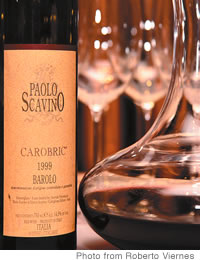 Sleek, deep flavor of dark chocolate with a tremendous finish
Less is more. It works in many artistic genres: music, painting, architecture, drawing, writing, etc. For me, it works well in wine. As I gain more experience in the world of wine, I seem to be drawn to this idea.
I would rather enjoy a few great wines with a few close friends who appreciate the wines than put together 100 of them and try as fast as I can to taste every single one just so I can say I did.
I think great wines are worthy of reflection. And that means time. When you sit down to dinner with those of like mind and taste, you get to discuss and share the time together. A winemaker once said that when you share a bottle of wine, you are also sharing time and space together. I couldn't agree more. With fewer wines my senses are able to hone in on the nuance of each. Each wine can linger on my palate and I can follow its evolution in the glass. This is one reason I don't often recommend decanting wine because I am more interested in the journey the wine takes rather than the final destination.
In grandiose and monumental tastings that include dozens if not hundreds of wines, the most you can achieve is a snapshot - a mere picture of what the wine tastes like. It takes a monumental effort just to get through a tasting of this order.
The time you spend with that wine is brief, to say the least. You don't get to see its deeper characteristics or its peculiarities, most of them being enjoyable. There is also the palate fatigue that sets in that even the keenest taster cannot deny. After tasting dozens of wines, even spitting, a professional palate is certain to fatigue. And if one is tasting and drinking, there is even more wear on your palate. Some say they can't even remember what they drank after the fifth or sixth glass. As hedonistic as it sounds, I find even more enjoyment from a higher quality standpoint than the higher quantity one.
I also am becoming more aware that I prefer wines with less overt oakiness in them than wines with huge amounts of it. I will say the same for wines that are overly alcoholic as well, in both the New and Old Worlds.
I find greater appreciation for wines that can still deliver as much pleasure, if not more, without the use of wood or elevated alcohols. I am referring to wines that speak more loudly of a place, show not only hedonistic value but also intellectual stimulation.
And lastly I am finding that I prefer foods that have just a few terrific elements that make them great rather than a host of flavors that compete with each other on the palate. I love complexity in food and wine, but sometimes too much is exactly that. Why not let each ingredient play its part well rather than get lost in the shuffle?
Perhaps I desire to focus on something longer than most without other things cluttering my thoughts. Maybe I am a control freak who doesn't want to lose control. Maybe I have enough busy-ness in my life that when I sit down to enjoy a wine, I don't want to be busy anymore. Thus less is more.
Recommendations: 2006 Perrot Minot Nuits St Georges La Richemone 1er Cru Cuvee Ultra ($250) This is of Grand Cru quality and is a tremendous wine that lovers of Pinot Noir and collectors will want to stash away for a decade or more. Only two barrels produced. 2005 Paolo Scavino Barolo "Carobric" ($69) Sweet, polished berries laced with anise and vanilla lead onto a sleek and deep flavor of dark chocolate and a tremendous finish.
Roberto Viernes is a master sommelier. E-mail
.(JavaScript must be enabled to view this email address)
Most Recent Comment(s):