Introducing The Lovely Aligote

By
.(JavaScript must be enabled to view this email address)
Wednesday - March 12, 2008
|
Share

Del.icio.us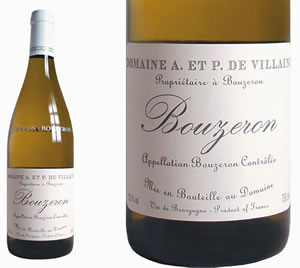 Domaine A et P De Villaine Aligote de Bouzeron
I would like to introduce you to a new friend I don't think you've met before. Her name is Aligote.
She is a lovely little wine from a small village in the South of Burgundy called Bouzeron. She is cousin to the queen of Burgundy, Chardonnay. She is a happy wine that is full of joy and innocence.
How many of you have tasted an Aligote before? Have you even heard of it?
Well, it is a specialty grown and made almost entirely in the village of Bouzeron in the Cote Chalonnaise.
At one point, in earlier times of Burgundy, it was in much favor and was more widely planted than Chardonnay. It is in almost any standard not as compelling at Chardonnay, but when it is cultivated and made by hands that care, the wine is a thoroughly delightful, refreshing and pleasure-filled.
Lucky for Aligote, and us, there is a handful of not only good producers but some of the world's greatest wine producers who have a love affair with Aligote.
Case in point, Aubert de Villaine, co-owner and co-director of Burgundy's most illustrious Domaine de la Romanee Conti, makes arguably Aligote's finest example. His own personal Domaine A. & P. de Villaine (the P is for Pamela, his wife) in the town of Chagny is in the heart of the Aligote de Bouzeron appellation. His commitment to quality Aligote takes many forms. He farms his vineyards organically, uses low yields, keeps the vine age at a maximum and fines only lightly with no filtration unless absolutely necessary. The wine itself when young is exuberantly citrus with an undeniably mineral scent. If you have never smelled a wine with minerality, just smell this one. It is never less than refreshing with a zesty, citrus peel accent, a medium-light texture with a penetrating length that sings of corn candy. As these wines develop with time (and the best examples do) they develop nuttiness not unlike aged Chardonnay (minus the oakiness) and fuller texture, over-ripe apples and pear tart flavors. Don't miss out on the 2005 vintage of this wine ($19).
As Pierre de Benoist, Aubert's nephew and managing director of the domaine, says, "It may be one of the best we've ever made."
An exceptional Aligote not grown in Bouzeron is that of Domaine Robert Chevillon ($19). These grapes are actually grown alongside Pinot Noir in vineyards in the famed village of Nuits St. Georges. Brothers Bertrand and Denis work these Aligote vines with the same love and care that they treat their century old vines in the vineyard of Les Vaucrains. The Aligote vines being "only" 35 years old. Coming from a different terroir, their Aligote is denser, more masculine. It boasts more pear and spices from the outset. It feels more like Chardonnay on the palate and has a flowery aftertaste.
If the prices of Meursault and Puligny Montrachet have driven you to drink Pouilly Fuisse, this is a wine you must try.
And with food ... my goodness, this wine is excellent with food. I liken it to a canvas onto which you can paint your own pairings.
Shellfish, especially clams and oysters, are a wonder. Almost any preparation of fish, even raw with soy or vinaigrette, is an easy match for this wine. And yet a personal experience with pea soup and Aligote assures me that it could handle something as heavy as a Vichyssoise or crab bisque with aplomb. Goat cheeses and other sharp fromage put no fear in this bottle.
At some point, you must introduce your palate to the joys of Aligote.
Roberto Viernes is a master sommelier. E-mail
.(JavaScript must be enabled to view this email address)
Most Recent Comment(s):