Master Sommeliers Do It Blind

By
.(JavaScript must be enabled to view this email address)
Wednesday - April 08, 2009
|
Share

Del.icio.us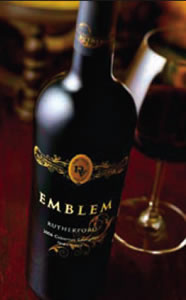 Emblem Cab: Heavenly scented
Blind tasting. Have you done it before? It's when someone pours you a glass of wine without telling you exactly what it is. You have to guess what it is or at least say what you think of it without seeing the label. There are plenty of reasons for doing blind tastings, not all of them good.
The master sommelier program uses the blind tasting method in its educational programs and examinations. We teach a method to help students deduce what the wine is by looking for characters that help to point out its fingerprint or typicity. As sommeliers, we should be able to correctly identify varietally wines as well as wines that are truly representative of their terroirs and appellations. We also stress the ability to ascertain the quality of the wine by using our deductive blind-tasting method.
Quality, after all, is not subjective. Whether a wine is of good quality is objective. Whether you like it or not is a different and parallel subject.
By tasting a wine blindly, we also eliminate the prejudice you might have or the reputation that comes with a certain wine. Knowing how much was spent on a wine can have a psycho-symptomatic effect and make you think that it is indeed better than other wines that are less expensive, which is not necessarily true. A wine could cost more because the demand for it is higher and the supply smaller. More often than not, someone will have you blind taste a wine you may not be familiar with, and taste it next to something with which you are familiar, and compare the two.
Often in the trade someone will blind taste an inexpensive wine and ask for an opinion, hoping that one would think it of higher quality than its cost.
On the other hand, when we do blind tastings, we often take the pleasure out of it as well. There is a reason why people spend a ton of money on wine, and more often than not it is because of the quality. Even a neophyte with tons of money won't spend $5,000 a bottle if it doesn't taste good, at least not twice. Winemaker and importer Kermit Lynch says, "Blind tastings are to wine what strip poker is to love." Importer Terry Theise goes even further and says that it takes wine out of context.
Wine, like all other beautiful things in life, needs context. If the Mona Lisa was in some café on the side of the street, would it still garner the attention and praise from the crowds? Would a virtuoso violinist gain the applause and adoration of the crowd if he played in a crowded train station? If wine is art, then it deserves its context: who made it, from what soil, in what vintage. Theise says "Blind tasting only guarantees your 'objectivity' ... If you're too immature (or inexperienced) to be objective when necessary, tasting blind won't help you."
To me, wine has meaning and culture behind it, and to be objective about it reduces its cultural and hedonistic value. Only by knowing where it comes from and who made it and under what conditions can you truly experience the fullness of the wine.
People love to blind taste us master sommeliers, hoping to "stump the chump!" I'm always game for it. I may not nail the wine every time, but as at the end of the film Jerry Maguire, "I wish you my success."
Recommendations: Villa Sandi Prosecco Extra Dry ($17) This is a juicy, lightly sweet and fruity sparkler that will put a smile on your face. It is creamy and loaded with apricot, peach and flowery fruit. Emblem Cabernet Sauvignon ($45) Heavenly scented with sweet oak, spices and cassis with a rich texture and waves of flavor, in a blind tasting I would think this would be closer to $100!
Roberto Viernes is a master sommelier. E-mail
.(JavaScript must be enabled to view this email address)
Most Recent Comment(s):